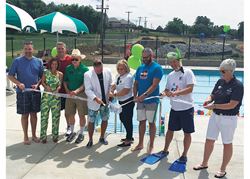 Community projects are what we love to do
ARVADA, Colo. (PRWEB) July 02, 2018
Adolfson & Peterson Construction (AP) has completed the Apex Fitzmorris Park Center & Pool and Secrest Recreation Center projects, celebrating with a ribbon cutting ceremony at Fitzmorris. Along with Barker Rinker Seacat Architecture, the completed recreation projects mark the collaboration and hard work of three community partners: Apex Park and Recreation District, the City of Arvada and Jeffco Public Schools.
This project included building two neighborhood recreation centers simultaneously. The 8,500-sf Fitzmorris project, located next to an elementary school, included a six-lane pool and a small weight room and community/aerobics area.
The 21,521-sf Secrest project required phased construction to leave their current pool and teen center open onsite until the new facility was finished. The completed facility includes a small weight room, community/aerobics area, teen center, a small gym, locker rooms and a therapy pool. Their existing swimming pool and inline hockey rink also remained.
"These new recreation centers bring so much to the local neighborhoods", said Tom Horsting, AP Mountain States' President. "Community projects are what we love to do."
Fitzmorris is open to the public. The Secrest's outdoor pool is now open for summer use and the new indoor facility will be opening in the fall. These two projects were the last of Apex Park and Recreation District's 2016 Bond Projects, which included six facilities in various locations around the district.