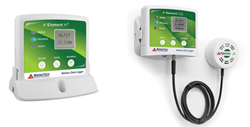 WARNER, N.H. (PRWEB) July 17, 2018
Join MadgeTech July 25-27 at the San Jose Convention Center in San Jose, California, for the 2018 Cannabis Summit & Expo! Stop by our booth #911 to see our data loggers in action including the Element HT and the Element CO2 Wireless data loggers.
Originating in 2013, the Cannabis Business Summit & Expo has been named one- of the most influential, award-winning tradeshows in the United States. With over 150 thought leaders and speakers and more than 350 exhibitors, this year's show is projected to bring the cannabis industry's leading technology, innovation, and latest products.
At this year's show, MadgeTech will exhibit the notable Element HT Wireless Humidity and Temperature Data Logger.
Designed for HVAC studies as well as day to day temperature and humidity monitoring of grow and storage rooms, the Element HT provides the most accurate readings for external humidity and RTD based temperature sensors. Utilizing the MadgeTech software, the Element HT can be used as a singular system or expanded into a large-scale system.
MadgeTech will also provide a hands-on demonstration of the Element CO2 Wireless Data Logger.
The Element CO2 accurately measures and records carbon dioxide levels, humidity and temperature data. Using a connected CO2 sensor, the logger features an LCD screen which provides instant access to current readings.
These products and more will be available at the MadgeTech booth. Come by to learn more about MadgeTech's industry-leading data loggers, customizable solutions, and user-friendly software.
More information can be found at http://www.madgetech.com/, should you have any questions, please email info@madgetech.com or call (603) 456-2011.