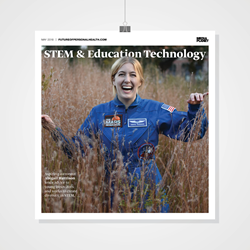 Everybody should just be open to what their kid wants to do. Let them know that they can make a difference.
New York (PRWEB) July 02, 2018
Ahead of Back-to-School season, Mediaplanet today announces the launch of its June edition of "STEM and Education Technology." This campaign dives deep into several key issues affecting equity in education and access to STEM learning resources in thousands of schools and communities across the nation, spotlighting leaders in education technology and after-school programs who are nurturing STEM learning both in and outside of the classroom, as well as providing support to educators and students to strengthen the STEM career pipeline.
Leading the charge in inspiring our readers, which include educators, parents and students, "Black Panther" star Letitia Wright brings some serious star power to the print and digital publication. Letitia Wright's role as Shuri in the international blockbuster has already sparked interest in STEM among millions of young students, leading to a new calling that the actress has embraced wholeheartedly. Since the film's groundbreaking release, Wright has been vocal about supporting STEM education in underserved communities, and is urging parents and teachers to join in on the effort:
Wright says, "Everybody should just be open to what their kid wants to do. Let them know that they can make a difference."
Joining us in this fight is Boys & Girls Clubs of America, a national organization whose mission is to fuel the futures of young people across the country, and help them grow into productive, caring, responsible citizens. One of their core initiatives aims to foster STEM learning and college readiness.
In celebration of the Marvel blockbuster, Black Panther's worldwide success, The Walt Disney Company donated $1 million to Boys & Girls Clubs of America to develop their existing national STEM curriculum, as well as launch new STEM Centers of Innovation in 12 communities across the country.
The print component of "STEM and Educational Resources" was distributed within USA Today in Chicago, San Francisco, Houston, Seattle, Boston, New York and Washington DC/Baltimore markets, with a circulation of approximately 250,000 copies and an estimated readership of 750,000 on June 15. The digital component is distributed nationally through a vast social media strategy and across a network of top news sites and partner outlets. To explore the digital version of the campaign and more stories, click here.
About Mediaplanet
Mediaplanet specializes in the creation of content marketing campaigns covering a variety of industries. We tell meaningful stories that educate our audience and position our clients as solution providers. Our unique ability to pair the right leaders with the right readers, through the right platforms, has made Mediaplanet a global content marketing powerhouse. Our award-winning stories have won the hearts of countless readers while serving as a valuable platform for brands and their missions. Just call us storytellers with a purpose. Please visit http://www.mediaplanet.com for more on who we are and what we do.
Press Contact:
Victoria Borkowski
victoria.borkowski(at)mediaplanet(dot)com
Phone: (646) 755-7949