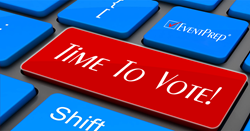 "We are all aware of the tremendous sacrifices members of our military make to defend our country and our citizens, but we may not be aware that military spouses make incredible sacrifices as well. One of them may be their own careers". Linda McMahon, SBA Administrator.
MERRITT ISLAND, Fla. (PRWEB) September 05, 2018
"And the Winner is…" These are the words that all of us want to hear, but there are ten deserving military spouse entrepreneurs competing to win an EventPrep® home-based franchise opportunity who really need your vote now!
There are more than a million military spouses – 700,000 married to someone on active duty and 400,000 with the Guard and Reserves, but it all comes down to these Top 10 Finalist in the EventPrep® Military Spouse 200K GiveAway:

Carrie Smith, U.S. Air Force Military Spouse
Paig Horton, USMC Military Spouse
Nikki Samuels, USMC Military Spouse
Agata Kubik-Montes, U.S. Navy Military Spouse
Marla Bautista, U.S. Army Military Spouse
Angela Spangler, U.S. Army Military Spouse
Toni Stinson, USMC Military Spouse
Christina Abbott, U.S. Air Force Military Spouse
Kathryn Rivera, U.S. Army Military Spouse
Alicia Castillo, U.S. Army Military Spouse
Upon award, the top five new franchise "recruits" will report for active EventPrep® duty where they will participate in a 6-day Franchise Training Bootcamp at the EventPrep® national training facility in Northern Virginia.
EventPrep® is owned by military veterans who recognize the employability challenges that military spouses traditionally face and were compelled to share this unique home-based event planning franchise opportunity as a plausible solution. Five lucky military spouses will begin a new career in the hospitality industry as a small business owner, providing professional event planning and management services with no territory limitations.
Please visit http://eventprepfranchise.com/giveawayvoting/, watch their video stories and cast your vote for your favorite military spouse.