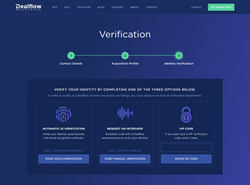 Protecting client data is a top priority for us and we are proud to be the first M&A firm in our space to use this technology.
SAN FRANCISCO (PRWEB) July 03, 2018
Dealflow Brokerage, an M&A Advisory firm specialized in facilitating the sale and acquisition of small to medium sized web companies, has announced a new platform partnership with Sum&Substance, the esteemed identity verification company based out of London.
Beginning July 3, 2018 all new and existing members of the Dealflow Buyer Network will need to satisfy a one-time identity verification requirement.
Explaining the decision on Dealflow's blog CEO Jamie Toyne said, "Protecting client data is a top priority for us and we are proud to be the first M&A firm in our space to use this technology. The new platform will create more visibility and accountability, making Dealflow's powerful network of investors and entrepreneurs even more secure."
The preferred option, and quickest mode of verification offered by Dealflow, is a Sum&Substance automated ID check using facial recognition software, which can be completed directly through the Dealflow website in as little as two minutes.
Those who utilize this solution will be able to verify their identity quickly by taking a "selfie" while holding a government issued photo ID. The technology performs authenticity analysis on the ID document, while facial recognition technology compares the face in the image of the ID with the face of the individual holding the ID to determine if they are a match. Finally, personal data is checked against databases of known scammers, and the identity is ether verified or rejected.
Sum&Substance is a GDPR compliant UK software and technology company specialized in remote KYC/AML identity verification systems. Founded in 2015 by Andrey Severyukhin and Peter Sever, their technology allows online services around the world to meet regulatory requirements, prevent fraud and enhance customer confidence, making the partnership with Dealflow a natural fit.
"The biggest risk associated with listing an online business for sale is that of proprietary information being leaked or accessed by existing competitors and new entrants. The result can not only hurt the chances of a successful exit, but have a damaging impact on the business' ongoing performance. Whilst NDA's are still a valid means of protection, they are effectively mute and unenforceable if any Tom, Dick and Harry can sign one and gain access. By having solid, verifiable information on every person within our network, we have have a lot more control over confidentiality and compliance. More needs to be done to protect business owners and we feel that working with Sum&Substance is a step in the right direction." Toyne said of the partnership.
Dealflow will also offer an alternative verification method, where applicants can schedule a video conference call with a Dealflow representative to verify their identity and provide a background on their acquisition profile. However, in the announcement Mr. Toyne noted, "Manual verification can take up to two business days depending on the availability of the team, so Sum&Substance verification is certainly the most efficient method."
Regardless of which of method is used, successful identity verification will be a requirement of anyone seeking to join the Dealflow Buyer Network moving forward. Registered members of the buyer network enjoy instant prospectus downloads, as well as access to an acquisition profile and deal sourcing platform, which helps pair buyers with companies matching their acquisition criteria.
Toyne closed by saying, "Internet Business M&A has a long way to go in the way of security and compliance. The launch of our new platform is one of several proactive initiatives Dealflow is undertaking to raise the bar."