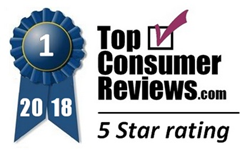 For all of these reasons, Sky Blue Credit is our highest-ranked service, and we're pleased to name them our top choice for Credit Repair in 2018.
OVERLAND PARK, Kan. (PRWEB) July 06, 2018
TopConsumerReviews.com recently awarded their highest five-star rating to Sky Blue Credit Repair, an industry leader in Credit Repair services.
Figuring out how to get and keep a good credit score can sometimes feel like rocket science. Many Americans have a limited understanding of how credit scores work - and even less so when it comes to how their credit score impacts their ability to get a mortgage, qualify for loans, or even the interest rates they'll pay on credit cards and other forms of borrowing.
When times get tough, the likelihood increases that consumers will wind up making late payments - or no payments - thus damaging their credit history. For this reason, Credit Repair Companies are more important now than ever. These services work with individuals to remove negative marks on their credit history by contacting credit bureaus, collection agencies, and creditors. The best services also create a plan with the client for healthier financial decisions moving forward.
"Clients love the customer experience with Sky Blue Credit," explained Brian Dolezal, of TopConsumerReviews.com. "For a low monthly fee, customers can access a variety of helpful resources for repairing their credit score, from analysis that identifies suitable items to dispute, to advice for rebuilding credit once the repairs have been made. We love that Sky Blue continues to offer a simple 90-day money-back guarantee, should clients be unsatisfied with the process for any reason. And, with an impressive history spanning nearly 30 years, Sky Blue Credit has demonstrated a long-term commitment to helping their customers make genuine, lasting improvements to their credit history. For all of these reasons, Sky Blue Credit is our highest-ranked service, and we're pleased to name them our top choice for Credit Repair in 2018."
To find out more about Sky Blue and other Credit Repair services, including reviews and comparison rankings, please visit the Credit Repair Services category of TopConsumerReviews.com at https://www.topconsumerreviews.com/credit-repair.
About Sky Blue
Sky Blue Credit is dedicated to credit repair, focusing solely on helping customers reaching their credit goals through repair and restoration services since 1989. They pride themselves on speed, disputing 15 items every 35 days, as well as giving intelligent guidance with respect to optimizing customers' credit scores.
About TopConsumerReviews.com
TopConsumerReviews.com is a leading provider of reviews and rankings for thousands of consumer products and services. From Credit Repair to Mystery Shopping and Personal Loans, TopConsumerReviews.com delivers in-depth product evaluations in order to make purchasing decisions easier.