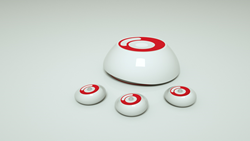 To see this level of support for Olarm on Kickstarter really validates the need for an easy-to-use, peel and stick technology that allows people to more affordably keep their homes and offices safe
SAN DIEGO (PRWEB) July 03, 2018
Led by backers in the United States, Australia, Canada and the United Kingdom, crowdfunders have pushed presales of the innovative, peel-and-stick multifunctional security system Olarm past the $120,000-mark – well over three-times the initial campaign goal on Kickstarter.
Several early-bird discounts still remain for Olarm as crowdfunding enters its final two weeks.
"To see this level of support for Olarm on Kickstarter really validates the need for an easy-to-use, peel and stick technology that allows people to more affordably keep their homes and offices safe," said Olarm Founder and CEO Joe Faltaous. "After spending two years developing Olarm, its gratifying to see the response its receiving from crowdfunding backers around the world."
Olarm is a multifunctional security system powered by an all-in-one "peel and stick" O-ring smart sensor. The smart sensor connects to mobile devices through a brain/hub and activates multi-purpose functionalities, enabling Olarm to be used as a door/window sensor or motion sensor, set up to detect water leaks, or can monitor temperature/humidity or programmed to function as a smoke detector.
In addition to featuring seven security capabilities into a single device, Olarm also eliminates the need for costly professional installation or hard wiring – with users able to install and activate the entire system in minutes.
Thanks to an intuitive mobile app, users are guided through the process so that anyone can set up the Olarm security system quickly and easily.
Users can choose a free monitoring option, which includes self-monitoring and/or authorizing a family member or friend to receive Olarm's notifications while they are away from home, or users can opt-in to use the company's professional monitoring service, 24/7 surveillance monitoring for only $10 a month for more peace of mind.
"We are originally a security service provider and a licensed commercial monitoring company, so we wanted to offer professional monitoring as a monthly add-on service, but not at the excessively-overpriced plans offered by most security providers," Faltaous said.
Those who already own smart home devices (e.g. smart door locks, cameras, smart light control, etc.) can easily integrate them with Olarm. Olarm is compatible with most existing home automation and security devices (e.g. Nest, Arlo, Phillips Hue and August DoorSense™) – giving users the ease of controlling and monitoring their homes from one place.
Developed to be "the smartest, most reliable, cost-effective and easy-to-use 'all-in-one' alarm system," the new, patent pending represents "industry-disruptive technology" that will change the way homeowners think of home security systems.
For more information about the features of the Olarm multifunctional security system and to take advantage of its remaining early-bird specials during crowdfunding, visit the Olarm Campaign Page on Kickstarter.
About Olarm
Olarm is a patent pending revolutionary third generation home security system. Powered by an all-in-one "peel and stick" smart sensor that connects to your mobile device through a brain/hub and activates multipurpose functionalities – door/window sensor, motion sensor, water leak, temperature/humidity, and smoke detector. Olarm is the only system that learns your lifestyle and adapts to it, avoiding false alarms. It is the most robust and reliable product with its built-in backup system. The brain/hub will automatically switch to a cellular connection in case of Wi-Fi/Internet interruptions, ensuring consistent protection. Olarm is also a licensed commercial monitoring company, offering a professional monitoring option for more peace of mind.
For more information, visit http://www.olarm.com/