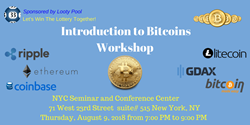 Thank you so much, I learned a lot from your last workshop.
NEW YORK (PRWEB) July 12, 2018
The largest lottery office pool app LootyPool, now accepts Bitcoins to join the Lottery Pools.
Looty Pool is also sponsoring a Free Bitcoin Workshop in New York City.
"Introduction To Bitcoins Workshop" in NYC, Aug 9th 2018 6:30pm - 9pm
NYC Seminar and Conference Center
71 West 23rd Street
Suite# 515
New York, NY 10010
Welcome to The World of Bitcoins
Workshop Overview
Heard about Bitcoins and want to learn more about the exciting technology that is disrupting the financial industry?
Would you like to know how blockchain technology is transforming the Internet?
Would you like to know how blockchain is effectively changing how we do business?
Would you like to have a firm grasp of where blockchain technology is headed and how you can leverage it?
We will answer those questions and much more, as well as where Blockchain Is Going, What It Does, And How to Prepare for It.
We will discuss the essence of bitcoin, blockchain technology and other cryptocurrencies to see how it works.
We will also dive into Ethereum, learn about the blockchain ledger, smart contracts, privacy, and proof of work.
After this workshop, you'll know everything you need to be able to get started with Bitcoin and other cryptocurrencies. You'll have the conceptual foundations you need to interact with the Bitcoin network.
Target Audience:
Beginners, Novices, Investors, Entrepreneurs, Developers, Miners, and Traders.
The ideal student for this workshop is someone who wants to quickly understand and expand their knowledge of how blockchain and Bitcoin work as well as how blockchain and Bitcoin are impacting our world.
Prerequisites:
This is a beginner course Introduction to Bitcoin.
There is no prerequisite needed to enroll beyond having a business interest in learning how blockchain and Bitcoin works, with a desire to learn more.
What Will You Learn:

What is Bitcoin?
How to buy Bitcoins
What is a cryptocurrency?
Types of cryptocurrency
How blockchain and Bitcoin are related and why it's so important to know the relation
Some common misconceptions about blockchain and Bitcoin
Learn Blockchain basics and how it works
Understand Ethereum Blockchain
What are smart contracts?
The role of bitcoin miners
Ledgers and Smart Contracts
Introduction to cryptocurrencies and other top known altcoins
Create and use Bitcoin account
Bitcoin Investment 101
Introduction to Bitcoin and Altcoin trading via GDAX
And More!
Why Should You Get Involved with Bitcoin?
1. Bitcoin has become a global phenomenon in the short time it has been around, it serves many purposes with the main one being it is a currency that isn't issued by any central governing body.
2. Bitcoin is an alternative investment which offers exponential returns, however the markets are volatile. It has a distinct advantage over other markets, that being it's a 24/7 liquid marketplace.
3. By getting involved with Bitcoin you're joining an ever-growing ecosystem, which is at the cutting edge of technology. Remember Bitcoin can be used as both a currency, and an investment.
This is classroom setting workshop
NYC Seminar and Conference Center bring your laptop, Free WIFI
Limited Seating available! RSVP now!
EventBrite: Introduction To Bitcoins Workshop
Looty Pool: http://www.lootypool
Facebook: http://www.facebook.com/lootypool
Twitter: http://www.twitter.com/lootypool
If you are interested in sponsoring, please connect us. Contact - Joseph Salmond at: Jsalmond(at)lootypool(dot)com