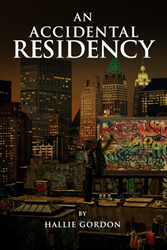 "Because I'm dyslexic I'm a highly visual and descriptive writer and as a result I have deeply interwoven powerful themes people of all ages will relate to personally," said Hallie Gordon.
VIRGINIA BEACH, Va. (PRWEB) July 09, 2018
Teen fiction author Hallie Gordon today announced the launch of her new book "An Accidental Residency" CreateSpace Independent Publishing Platform; 226 pages; $7.99 paperback on Amazon. The story follows the life of Lexi Gold, a troubled 17-year-old who is grieving after the loss of her father and who is unable to express her pain. As a result, she loses herself in late-night graffiti outings searching for the perfect Manhattan rooftop to tag. Her nightly outings lead to both romance and danger as she finds herself surrounded by a crew of street artists that force her out of her comfort zone. However, a case of mistaken identity changes her life forever.
Gordon wrote the book over a three-year period starting at age 15 and refined and published the novel after graduating from high school. While "An Accidental Residency" is considered Young Adult Fiction, Gordon feels the evolution of her heroine, Lexi Gold, will touch people of all ages.
"Because I'm dyslexic I'm a highly visual and descriptive writer and as a result I have deeply interwoven powerful themes people of all ages will relate to personally," said Hallie Gordon. "From conquering depression, overcoming grief, discovering friendship and romance to finding hope and becoming more alive, An Accidental Residency is written in a way I hope will help the reader find their own meaning. It's meant to help them find themselves. Along Lexi Gold's journey there also is an exploration of cultural and ethnic diversity as well as art."
The new novel is a powerful accomplishment for the 18-year-old dyslexic author who previously struggled to read. Gordon's genuine love of storytelling and her own personal challenges are masterfully cultivated within the novel to both express and connect with the reader. As Gordon continues, "As an author, being dyslexic is my superpower not my disability. I feel I'm a curator of emotions, which when blended on the page through the written word, provides the reader with a highly relatable experience that I hope will be positively life changing."
In addition to Amazon, "An Accidental Residency" CreateSpace Independent Publishing Platform; ISBN-10: 172161429X; ISBN-13: 978-1721614295; 226 pages; is available on Amazon Kindle, Barnes & Nobles – NookPress, Smashwords, KOBO, Scribd, iBooks – Apple, and in public libraries everywhere via Overdrive. Visit http://accidentalresidency.com to purchase or learn more, follow Hallie Gordon on Instagram @Officialhalliegordon or on her writer's blog at http://trafficforthesoul.com
Media Contact:
Ria Romano
RPR Public Relations, Inc.
Tel. 786-290-6413