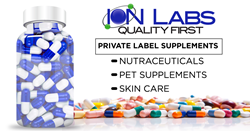 TAMPA, Fla. (PRWEB) July 05, 2018
Ion Labs is known for being a custom manufacturer of the highest quality dietary supplements, pet supplements, skin care products and OTC Drugs in the world. In the past year, Ion Labs has seen massive sales growth and a spike in new customer acquisition with large globally recognized brands. After months of research and collecting data on industry product demand, Ion Labs now provides a comprehensive list of private label supplements, pet supplements and skin care products for businesses. All of the stock products will be readily available to businesses looking to purchase their private label products. Fulfillment services will also be available via Ion Fulfillment.
Some of the new private label supplement releases include:

Organic Hemp Oil
NO2
Testosterone
Berberine
Forskolin
Beard Growth
4 Billion Probiotic
Brain Health
Charcoal Mask
Vitamin C Cream/Serum
Anti-Aging Cream
Weight Loss Support
If a business is interested in learning about Ion Labs custom or private label pricing, please fill out our form on the Home page of http://www.ionlabs.com to be contacted immediately.
Getting Started with Ion Labs Private Label Supplements
Private label supplements are simply dietary vitamins and nutraceuticals manufactured by Ion Labs and marketed/sold by another brand or company. The private label supplements process allows Ion Labs to deliver quality dietary supplements, along with pet supplements and skin care products at affordable prices to small, medium, and large brands. Businesses that plan to sell their own branded line of supplements can select products from Ion Labs' list of private label products and sell them in retail locations or online.
Ion Labs guarantees three main components to every client: transparency, trust and traceability. Transparency in their operations and communication, trust in their methodology and experienced staff, and traceability in the high-quality products they develop and continue to test for stability year-after-year. When businesses decide to partner with Ion Labs and become a customer, they come on-board with the idea to recreate existing products from their already successful catalog and continue to create new products to build their portfolio.