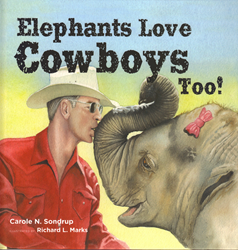 Love is love in any language. But what happens when no language exists to make communicating that love possible?
COLORADO SPRINGS, Colo. (PRWEB) July 05, 2018
Author Carole Norris Sondrup, daughter of well-known Colorado Rancher Bob Norris, launches unique children's book, based on special human-elephant language developed by the author and adapted by American Zoos. Could spell breakthrough for children with autism.
Love is love, in any language. But what happens when no language exists to make communicating that love possible? A breakthrough must happen, and when it does, the joy of understanding and being understood is suddenly present.
This is the breakthrough that happened between "Cowboy Bob" and Amy the Elephant, and was both experienced and chronicled by his daughter as her own children grew up.
Having seen these communication breakthrough happen with her own eyes, the author is convinced this message is so important, it needed to be written as a book to be enjoyed by children and their elders.
Citing the unusual level of mutual understanding experienced by Mr. Bob Norris and the African elephant he adopted and raised on his own ranch, Sondrup believes this is the kind of breakthrough that can happen in other cases too – such as for those with autism. The special language that made it possible for Amy to communicate to humans was adopted by zoos throughout the U.S. and the world.
This elephant "language" was developed by Army McGuire, which first came to the attention of the author when she saw a piece on a PBS show about elephants in American zoos. "I tracked him down," Carole explained, "and invited him to come to the ranch and teach the language he developed to my Dad. Army traveled the country from zoo to zoo teaching this to the handlers. He felt this was important since many elephants were loaned between zoos for breeding purposes and a common language to communicate with them benefited not only the magnificent animals but the humans trusted with their care."
Not only did the author witness and participate in this unusual inter-species communication between her dad "Cowboy Bob" and "Amy the Elephant"; she also noticed the effect this human-animal communication was having on her own niece, who suffers from autism. The author and her family members believe the same kind of breakthrough is possible in the autism community. Many experts in the field of autism now agree. For this reason, the proceeds of this book are dedicated to one special Autism Center.
The book, designed by experts in youth-publishing, have created what appears to be a traditional childrens' picture book. With the charming lilt of story-telling penned by the author, and the addition of delightful, uplifting watercolors by a professional artist Richard L. Marks (http://www.marksmenstudios.com), the book is destined to be a favorite gift for children, parents, and grandparents eager to find the next "read" to be shared.
What makes this book unique, however, is that it is not fictional. This non-fiction work tells a true story based on the experiences of three generations of the Norris family, now brought to life in a form ideal for children of all kinds and all ages.
"Dad's incredible love for Amy, and his dedicated efforts to make sure Amy had good homes throughout her life, is a story that's been told in adult form," related the author. "But I felt there was more. I saw Amy with my own kids, and knew that children always had a special resonance with her. I knew that somehow this amazing story had to be made available to children—and to their parents and grandparents. That's why I wanted to write the book."
"I loved working on this project," said the illustrator. "Carole has many photographs of her dad, herself and her own family members, so I had authentic source material to work with. But it was the true story of Amy's amazing life-journey that inspired my imagination." Marks' illustrations capture the tender quality of Amy that touched so many people, and is already delighting the young audience for whom the pictures are designed.
"This is the kind of project that makes us remember why we love publishing," said publishing consultant and project manager Mara Purl. "The Norris family members have been friends of my own family's for four decades, and we were honored to work with Carole in creating this extraordinary book."
The author's new website is CowboysAndElephants.com, where background information, real-life photographs, and purchase links may be found. In addition, a special page invites young readers to submit their own drawings of Amy the Elephant.
The Autism Treatment Center, founded by the author's brother Bobby Norris of Ft. Worth, Texas, whose daughter is autistic, has pre-vetted the book, with its own staff members. Other experts in the autism field have also praised the book. And the director of the Fresno Zoo, where Amy spent her final years, admires the book and plans to have it available to zoo patrons.
"I had the pleasure of reading this heartwarming book about a rare relationship between two opposites. Elephants Love Cowboys Too takes us through extreme emotions as Amy navigates through her challenging life until a transformation takes place with the help of Cowboy Bob. This true story is a must read for anyone who experiences the discomforts of searching for their place in this world."
— Suzette McIntyre, Author of Beauty Surrounds Us, The Paths We Take, and Reflection
"Elephants Love Cowboys Too! by Carole N. Sondrup is a great look into the life of a young, orphaned elephant. This short story tells the tale of how and why Amy the elephant left Africa and moved to America. Most of her years were spent in the care of Cowboy Bob, until it came time for her to begin another journey. Amy spent the remainder of her years at Fresno Chaffee Zoo, where she was loved by staff and guests alike. African elephant numbers in the wild are at an all-time low due to poaching. Many orphaned elephants are not fortunate enough to have the luck that Amy and her cousins came across. This story provides a heartfelt tale of a compassionate cowboy who refused to leave a little elephant behind."
– Scott Barton, Executive Director/CEO – Fresno Zoo
"You selected the most intriguing and loved characters in your book, Elephants Love Cowboys Too! From the beginning the story leaves the reader wanting to know more. There is a message in the story for everyone. I have been a part of the autism community for many years and I quickly found comparisons. Changes were made in Amy's life without her understanding what was happening. It was scary and confusing just like life for children with autism. Eventually, Amy gets to make new friends, the best one being Cowboy Bob. But most of all, I enjoyed the conclusion with a message of love and acceptance for all. Thank you for this true story."
– Anna Hundley, Executive Director, Autism Treatment Center, Dallas Texas
All author royalties and net proceeds will be donated to ATC. Find out more by visiting the ATC website http://atcoftexas.org/
And enjoy reading about their annual event Round Up for Autism
http://roundupforautism.org/
Author Carole Sondrup is available to speak on this important breakthrough to interested groups nationally, and will be featured at special events in Colorado and Texas through 2018.
To make arrangements for author/speaker invitations, contact Reya Patton, Reya@HavenBooks.net.
To purchase retail copies of the book, visit CowboysAndElehants.com, or any national bookseller.
To purchase multiple copies in bulk, contact Reya Patton at Haven Books.