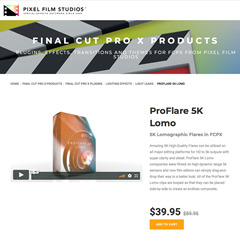 "ProFlare 5K Lomo is the next iteration of 5K flares that creates enchanting scenes within Final Cut Pro X."
ALISO VIEJO, Calif. (PRWEB) July 06, 2018
Amazing 5K High-Quality Flares can be utilized on all major editing platforms for HD to 5k outputs with super clarity and detail. ProFlare 5K Lomo composites were filmed on high-dynamic range 5k sensors and now film editors can simply drag-and-drop their way to a better look. All of the ProFlare 5K Lomo clips are looped so that they can be placed side-by-side to create an endless composite.
ProFlare 5K Lomo contains 56 lomographic lens flares filmed in both HD and 5K resolution. ProFlare 5K Lomo lens flare and light leak composites have a very high-dynamic range for super smooth falloff. Flares will easily work on any non-linear editing software. Simply drag and drop any ProFlare 5K Lomo composite into the timeline and then select the Blending Mode to be Add, Screen, Overlay and more.
ProFlare 5K Lomo can be utilized for HD to 5k films without any loss of quality in any linear editing software. This outstanding 5k light leak and flare collection contains such a high-resolution, it can be used for photo prints too! ProFlare 5K Lomo is perfect for adding beautiful light leaks to a vintage style video production.
With ProFlare 5K Lomo users will receive 56 amazing 5k light leaks and lens flares in both 5K and HD resolutions. Using today's best quality lenses and cameras, ProFlare 5K Lomo is a steal.
Included is a special tool for manipulating and tweaking the flare footage to perfection. Gamma, brightness, and color tweaking made easy!
Established in 2006, Aliso Viejo, California-based Pixel Film Studios is an innovative developer of visual effects tools for the post-production and broadcast community. Their products are integrated with popular non-linear editing and compositing products from Apple FCPX. Apple, the Apple logo, Mac OS X, and Macintosh are registered trademarks of Apple Inc. in the U.S. and/or other countries. All other trademarks and trade names are the property of their respective owners.