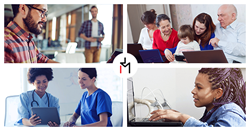 "Thanks Mobile Recharge I can now conveniently recharge for my Mum in Africa anytime. And it's pretty quick. I'm keeping you!" (CASHEY on Trustpilot.com)
ATLANTA (PRWEB) July 04, 2018
MobileRecharge.com, the platform serving expats worldwide, newly facilitates data and bundle recharges for expat families in the Philippines and Ghana, and makes available more cell phone networks to support mobile top-ups to Ghana. The new entries in the top-up lists on MobileRecharge.com expand the possibilities expats have to support people back home by transferring such goods as mobile credit for browsing, social media, email, domestic and international calls. The process takes about 1 minute on MobileRecharge.com or using the MobileRecharge app, and payment is possible with Visa, Mastercard and PayPal.
Filipinos abroad can now send Sun and Globe Data to mobile-fan friends in the Philippines, as well as Broadband Plans and Prepaid Data Plans from Smart. Thousands of Filipinos, especially those living in the USA send Sun, Smart and Globe credit back home on regular basis, for years. Although not a common practice in Europe and other parts of the world, it is a common habit among expats.
The estimates of transactions for the Philippines will grow with the recent expansion of services to be bought for the Philippines from abroad, without having to pay more than a low processing fee. The change is welcome by large part of the families of those 5+ million Filipinos living abroad.
The neighbouring Thailand is also open to receive much more mobile credit from abroad. With the latest change on MobileRecharge.com, four new networks are ready to facilitate country-to-country transactions at the cost of a very low processing fee: MY, Penguing, TOT, 168. It is a big step for expats originally from Thailand, who have long awaited for this to happen. Before, they could only send credit to subscribers using AIS, True Move and DTAC.
Ghanaians abroad get good news too. MTN makes it now available for their relatives back home to receive data and bundles via MobileRecharge.com. No contract is required, and the top-up process takes 3 easy steps, including a simple online form to fill in on the website. Android fans have the in-app options too. At present, the operators in Ghana that are now available on MobileRecharge.com are: MTN, Vodafone, Airtel, Tigo, Glo and Expresso.
All in all, thousands of subscribers in the Philippines, Thailand and Ghana will be supported by their relatives living abroad with data and bundle credit, no matter the distance. Whenever necessary, they can get their cellular phones loaded in seconds, and use the balance immediately for browsing, chat, email, social media, calls and texts according to the type of service. It is all thanks to a big change on MobileRecharge.com, that made available on the website as well as the app more networks in Ghana (MTN Data, MTN Bundles), Philippines (Sun Data, Globe Data, Smart Broadband Plans, Smart Prepaid Data Plans) and Thailand (MY, Penguing, TOT, 168).
Reviews of MobileRecharge on Trustpilot point out the benefits for expats, in comparison with other similar services:

24/7 prompt Support
Hassle free process fit for inexperienced as well as techie minds
100% safe website and app
Polite, quick and transparent communication
Daily offers
Notifications by email (spam-free newsletter)
Fast and clean transaction
MobileRecharge.com is the initiator of World Top Up Day for generous expats, and a brand of KeepCalling, a global telecommunications company registered in 2002 in the USA, listed by Inc 5000 as one of the fastest growing companies in the USA for 5 consecutive years. Presently, KeepCalling provides its services to hundreds of thousands of consumers , with a focus on customer satisfaction. In 2015 the company registered a revenue increase of over 200% from 2011 to 2014.