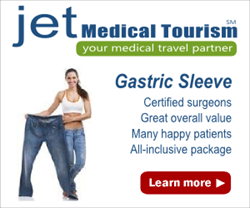 Medical services such as gastric sleeve surgery cost an average of 50 to 75 percent less in Mexico compared to the U.S. and Canada.
SAN DIEGO (PRWEB) July 09, 2018
Obesity is a global medical epidemic, and new forecasting data by research and technology services firm RTI International suggests that 51 percent of the American population will be obese by 2030. This forecast is in line with similar research that's been done elsewhere in the world, including a recent study from the European Association for the Study of Obesity that predicts morbid obesity will affect more than 4 million people in England, Wales, and Scotland by 2035.
One effective long-term treatment for obesity is bariatric surgery, which changes the size and shape of the stomach to restrict the amount of food a person can consume. The most popular type of bariatric surgery is gastric sleeve surgery, and other options include gastric bypass surgery, duodenal switch, and gastric banding.
Depending on the specific procedure, patients can expect to lose between 40 and 90 percent of their excess body weight within one to two years of undergoing surgery. Just as importantly, patients who maintain a healthy lifestyle after surgery can expect to keep the weight off long-term.
Despite how effective it is at promoting weight loss and treating obesity, bariatric surgery is still largely underused, and less than 1 percent of Americans undergo weight loss surgery. There are many reasons why bariatric surgery is sought by so few people, and among the most common include fear, cost, lack of insurance coverage, and extended wait times.
By seeking bariatric surgery in Mexico, however, patients can gain all the benefits of effective, safe, and long-term weight loss, but without the costs and extended wait times experienced in places like Canada, the United States, and Europe. Medical services such gastric sleeve cost an average of 50 to 75 percent less in Mexico, making potentially life-saving surgeries more accessible for everyone.
In the U.S., more than 50 percent of Americans are currently overweight or obese. Obesity, which is defined as a body mass index of 30 or higher, is linked to a range of health problems, including heart disease, diabetes, arthritis, pain problems, high blood pressure, sleep apnea, some cancers, and more. In helping patients to lose excess weight, bariatric surgery is also effective at resolving or improving many of these comorbid health problems.
About Jet Medical Tourism: Jet Medical Tourism is an online medical tourism company that connects patients in the United States, Canada, and Europe with affordable and safe medical options in Mexico. The company specializes in helping patient's access bariatric and cosmetic surgery for less, all while ensuring the highest standards of care. They work only with board-certified surgeons and hospitals, and focus on pre-op and post-op aftercare to help patients achieve and maintain their lifelong weight loss goals.