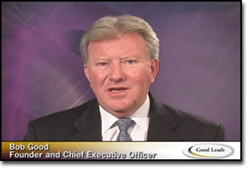 These two services are designed to give both small businesses and larger firms looking for new markets a level of confidence in their business plans," said Bob Good, Founder and CEO of Good Leads
(PRWEB) July 09, 2018
Two new outsourced business development services from Good Leads help businesses uncover market opportunities in any economy. Market Landscape Briefing™ and Vertical Validation™ services point companies in the right direction for sales growth.
Good Leads, a Salem, NH outsourced business development services firm, has launched two new services designed to help business owners gain reliable strategic information to position their business for success in any economic condition. By helping companies to understand the overall market landscape or determine how a potential vertical might fit into their marketing plans, Good Leads gives both start-ups and established companies new ammunition to weather economic downturns.
"These two services are designed to give both small businesses and larger firms looking for new markets a level of confidence in their business plans," said Bob Good, Founder and CEO of Good Leads. "Armed with solid knowledge about a market landscape, businesses can stake a leadership position for the current economic situation and beyond. Our Vertical Validation service gives companies an evaluation of the potential synergy between their company and a prospective market segment. This is solid information they can trust."
From Report to Recommendations, Good Lead's Market Landscape Briefing is designed to help business owners gauge the impact of market trends on their customers and prospects. The report and final recommendations provided by Good Leads will help companies understand what their prospective customers need and identify potential partners as well as competitors.
The Vertical Validation service helps businesses determine which vertical markets are most likely to be a good fit for their services. Businesses gain an understanding of the vertical market's key issues and concerns, potential size, demographics, and competitors. The recommendations from Good Leads are based on proven and proprietary models for risk assessment and market opportunity analysis.
About Good Leads:
Good Leads® is a premium provider of sales and marketing,B2B lead generation and outsourced business development activities for technology centric firms on a global basis with significant emphasis in design and engineering software and services. Bob Good is CEO and Founder of the 15 year old firm. Good Leads specializes in executive level lead generation and appointment setting with international emphasis on supporting external corporate sales teams. Good Leads corporate headquarters is in Salem, NH with sales offices in Massachusetts, Maine and California. Good Leads can be contacted at 866 894-LEAD. http://www.GoodLeads.com