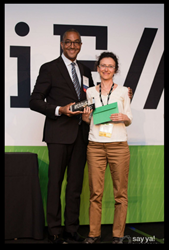 Best Coding and Computational thinking solution
PALO ALTO, Calif. (PRWEB) July 06, 2018
CodeMonkey, a game-based learning environment that teaches students 8 years and up computer programming, awarded Best Coding and Computational thinking solution.
The assessment process of the SIIA CODiE Awards was several months long and started as early as January, 2018. Prior to the assessment process, CodeMonkey applied several of its courses to different SIIA CODiE categories and during the process demoed the different CodeMonkey courses to several judges.
Since SIIA CODiE judges are educators and professionals in the EdTech field, receiving this award from further strengthens CodeMonkey's vision, product and its necessity in today's education. Furthermore, the judges feedback and assessment criteria guide provided CodeMonkey with a fresh perspective on what the majority of its end users are looking for. The Awards were also a perfect opportunity to familiarize with other products in the EdTech Industry.
What does the Award mean?
According to SIIA, the Best Coding & Computational Thinking Solution Award recognizes the best educational solution or platform that teaches students coding and computational skills, logic, problem solving, computer science, and algorithmic thinking. Besides coding softwares, the category also includes language platforms and robotics. CodeMonkey, the chosen solution, allows students to think creatively, reason systematically, work collaboratively and share their creations with others.
**
About CodeMonkey:
CodeMonkey provides students as young as eight years old a platform where they can start text-based coding in a game-based format without any previous coding courses. Founded in 2014, CodeMonkey products are designed to maximize engagement and user experience to introduce students to foundational computer programming skills. Using real programming languages and scalability for all learning environments, CodeMonkey provides a turnkey solution for educators by offering basic training, management and reporting tools, automatic grading and detailed tutorials for teachers and real time feedback for students. CodeMonkey has introduced computer science skills through play to millions of students worldwide. For more information, please visit http://www.playcodemonkey.com and follow @CodeMonkeySTU on ​Twitter​, Facebook, Instagram ​and ​YouTube​
CodeMonkey Contact:
info@cm-studios.com