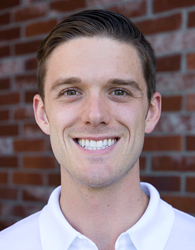 I've been very fortunate to grow up here in Springfield...I was looking for a way to get more involved...
SPRINGFIELD, Mo. (PRWEB) July 10, 2018
Medical Consulting Group(MCG), a medical business solutions consulting firm based in Springfield, Missouri, recognizes one of its own, Chase Rabourn, for receiving the "Member of the Year Award" from the Rotaract Club of Springfield. This award acknowledges his significant participation in a service club designed not only to connect professionals under 30 but also to address the needs of local children at Great Circle, as well as other local nonprofit organizations, and to promote better relations between people through a framework of friendship and service.
"I've been very fortunate to grow up here in Springfield," says Mr. Rabourn. "It's a great place to live, and about two years ago I was looking for a way to get more involved on my own time. A friend recommended the Rotaract Club and joining has given me the opportunity to really be a part of the community, providing hands-on help to local families in need and listening to the stories of local business owners who worked hard to get their feet off the ground. Now I'm getting the chance to contribute more of my own digital media expertise to serve this club and my home."
As digital marketing manager at MCG, Mr. Rabourn specializes in social media management, content creation, and online presence analysis for all MCG clients. Because of this background and proven dedication, the Rotaract club of Springfield has also appointed Mr. Rabourn to Director of Public Relations, a role familiar to him in which he will manage the Club's website, Facebook presence, and email platform.
MCG Managing Principal Stephen Sheppard, CPA, COE, states, "Chase is an invaluable member of our MCG Creative Team and I have no doubt he'll be the same for Springfield Rotaract. Community involvement is a big focus within our own company, and many of our employees are active volunteers. We are very proud to see Chase receive this award and look forward to watching him continue to excel, both in our office and out in our community."
MEDICAL CONSULTING GROUP
The medical business solutions provided by Medical Consulting Group for nearly 30 years include ASC and practice consulting, development, and management, as well as compliance oversight and revenue cycle management. They also specialize in custom multi-media marketing and advertising campaigns, including co-op consumer marketing management. These services are the product of decades of immersion in the ophthalmic and healthcare business industry, among various other medical specialties. Learn more at MedCGroup.com.