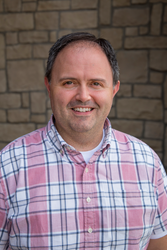 Mr. Brown's arrival is the result of MCG's efforts to expand online marketing capabilities for clients.
SPRINGFIELD, Mo. (PRWEB) July 12, 2018
In June, Medical Consulting Group (MCG), a national consulting firm providing medical business solutions, welcomed web developer Daryl Brown to its Creative Team. MCG's Creative Team is responsible for creating and managing multi-media marketing and advertising campaigns for clients across the U.S. and Canada. Mr. Brown's arrival is the result of MCG's efforts to expand online marketing capabilities for clients.
"To create and maintain a successful brand today, medical businesses absolutely have to have a strong online presence," says MCG Managing Principal Bill Rabourn. "It's essential to establishing everything from a business' credibility to its personality. Our Creative Team does this, combining the skills of several graphic designers, a video producer, a director of information technology services and web development, a medical copywriter, and a digital marketing manager. Daryl's background in web coordination as well as his experience with digital media and graphic design made him an ideal candidate for our team as we continue to focus more and more on online marketing."
Mr. Brown began his education studying Graphic Design and Marketing at Belhaven University in Jackson, Mississippi. His diverse work history exposed him to a variety of skills, from web design and digital media management to the more traditional printing processes.
"I consider myself an enthusiastic and creative person and enjoy collaborating with people to brainstorm new, fresh ideas," says Mr. Brown. "I look forward to working with my MCG team and putting our heads together to be among those leading marketing and advertising's shift towards the web."
MEDICAL CONSULTING GROUP
The medical business solutions provided by Medical Consulting Group for nearly 30 years include ASC and practice consulting, development, and management, as well as compliance oversight and revenue cycle management. They also specialize in custom multi-media marketing and advertising campaigns, including co-op consumer marketing management. These services are the product of decades of immersion in the ophthalmic and healthcare business industry, among various other medical specialties. Learn more at MedCGroup.com.