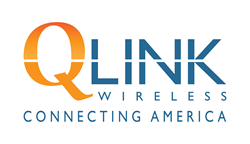 This will disproportionately and adversely affect rural Americans eligible to receive Lifeline services.
DANIA BEACH, Fla. (PRWEB) July 05, 2018
Q Link Wireless, the U.S.' third-largest carrier in the Lifeline program which provides reduced-cost or free phone and data services to low-income Americans, submitted an emergency petition to the Federal Communications Commission (FCC) to immediately change how people determine their eligibility and enroll in the Lifeline program.
The FCC proposed changes set to "roll out" later this year that make the eligibility and enrollment process far more burdensome and confusing, and will likely obstruct those who most need Lifeline phone and data services from receiving them, especially veterans, disabled people and other consumers living in rural areas. Under the current system, people wanting to enroll in the Lifeline program apply directly with a certified Lifeline phone company, known as an Eligible Telecommunications Carrier ("ETC"), to determine their eligibility. Currently, many eligible consumers sign up online with a Lifeline carrier such as Q Link – from a library, at work, or on a friend's device. People living in rural environments including veterans, the disabled, and older Americans are particularly reliant on the online enrollment process.
Now, however, under new third-party verification systems being implemented by the Universal Service Administrative Company (USAC), online enrollment will be a lot more complicated and difficult for consumers. Eligible consumers seeking to sign up online will first have to successfully navigate a government-run website, and then, he or she must repeat the process to enroll with a specific carrier – adding an unnecessary step to the process. The only way that a consumer can get help from a carrier in completing the government verification process is if they can find an in-person sales agent, and these agents are not common in rural areas with smaller numbers of eligible consumers.
Q Link supports implementing the new third-party verification system, but in order to be consumer-friendly, the online enrollment process needs to have automated methods (called "Application Programming Interfaces") that allow Lifeline carriers to collect the consumer's information and to seamlessly, electronically provide it to USAC's third-party verifier. Without these automated links, online Lifeline enrollment through carriers will not be possible, and millions of Americans, particularly those living in rural areas, will not have adequate access to the Lifeline program.
"The USAC's proposed change will be unnecessarily difficult and confusing for consumers," said Issa Asad, founder and CEO of Q Link Wireless. "Beyond the impact on rural Americans, which will be significant, the new system's failure to include automated links with carriers will unnecessarily cost taxpayers tens of millions of dollars."
"The new eligibility confirmation process will differ significantly for rural consumers compared to urban consumers," added John T. Nakahata of Harris, Wiltshire & Grannis LLP, counsel for Q Link Wireless. "Rural consumers who attempt to enroll online in the Lifeline program must use the National Verifier's consumer portal. By contrast, someone living an urban area can more easily get assistance from an in-person agent. This will disproportionately and adversely affect rural Americans eligible to receive Lifeline services."
As the largest Lifeline provider to rural Americans, Q Link understands that without changes to the proposed system, rural consumers will face an onerous, multi-step registration process that will block many from obtaining the vital Lifeline services for which they qualify.
The Lifeline program helps veterans, SNAP recipients, Medicaid recipients, and people living in Section 8 housing maintain voice and broadband connections, including the basic ability to call 9-1-1, apply for and keep a job, stay in contact with healthcare providers, and close the "homework gap." The company opposes continuing "down a path that will harm rural consumers and deny them access to Lifeline services comparable to urban consumers" while enforcing a "separate and largely duplicative application process."
For more information about Q Link Wireless, or to schedule an interview with Issa Asad, please contact Meieli Sawyer at 305-668-0070 or msawyer(at)weinbachgroup.com.
About Q Link Wireless
Q Link Wireless, a Quadrant Holdings Company, is one of the nation's leading providers of wireless voice and data service through the Lifeline Program. With more than 2 million customers, Q Link is wirelessly connecting people to the world around them, regardless of their income.