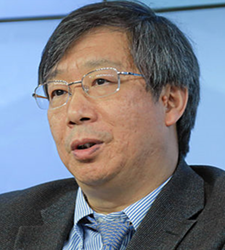 WASHINGTON (PRWEB) July 10, 2018
The Group of Thirty (G30) announced today that Dr. Yi Gang, Governor of the People's Bank of China, has accepted an invitation to join the Group's membership.
The Group of Thirty, founded in 1978, is a private, nonprofit, international body composed of leading individuals with experience in the public and private sectors and academia. It aims to deepen understanding of international economic and financial issues, and to explore the international repercussions of decisions taken in the public and private sectors.
Dr. Jacob A. Frenkel, Chairman of the Board of Trustees, stated, "We are delighted to welcome Dr. Yi Gang to the G30. We salute his leadership at the People's Bank of China and we are sure he will continue his exemplary history of public service to China, to international policy making, and financial stability." Dr. Frenkel continued, "The effectiveness of the G30 depends fundamentally upon the quality and stature of the Group's members and I and the Trustees look forward to Governor Yi's contribution."
Tharman Shanmugaratnam, Chairman of the G30, said, "Governor Yi Gang brings both deep knowledge and long experience of policy-making in China and at international fora. His joining the G30 will add much value to the Group's thinking and its contributions to international understanding of key issues in the years ahead."
Governor Yi Gang stated, "I thank Jacob, Tharman, and G30 members for their invitation. I am honored to join the Group and to help further its mission."
A full membership list is available at http://group30.org/members.