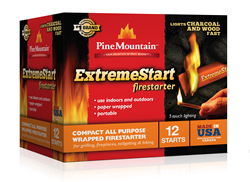 If you're a s'mores aficionado, head to the number one spot on the list of America's Top Cities for Roasting S'mores – Nashville, TN.
ROSWELL, Ga. (PRWEB) July 10, 2018
S'mores are the unofficial sweet of summer and creating the gooey treat can be tricky, especially when you're distracted trying to start the perfect s'mores-roasting fire. This season, spend more time perfecting your marshmallow's golden hue and less time tending to the fire, particularly for those residing in one of America's Top Cities for Roasting S'mores. Just in time for the peak of summer, Pine Mountain® firestarters and firelogs and environmental consulting company, Environmental Health & Engineering (EH&E), teamed up to unveil the national ranking of cities, taking into consideration weather and geographical factors that make for ideal s'mores-roasting conditions.
"As we enter prime season for campfires and s'mores, we ranked the cities by examining a variety of criteria, including average nighttime temperature, rainfall and wind speed during the summer months," said Dr. Ted Myatt, ScD, who led the study by EH&E and Pine Mountain. "We also looked at average housing lot size and proximity to public campgrounds when narrowing down the list to ensure the cities selected have ample room for backyard fire pits and space to stretch out under the stars with a s'more in hand."
Whether heading to the local campground or entertaining in the backyard, the fire should be the easiest part of your s'mores creation-station. The Pine Mountain® ExtremeStart™ Firestarter helps quickly ignite wood or charcoal and eliminates the need for kindling, so instead of babysitting the fire, you're spending more time creating your summer treat. Simply light the wrapper at the arrows for a hot, hassle-free fire in minutes, and begin roasting marshmallows shortly after.
If you're a s'mores aficionado, head to the number one spot on the list of America's Top Cities for Roasting S'mores – Nashville, TN. It comes as no surprise that Nashville is named the best city for s'mores with top rated access to public camping sites and ideal evening temperatures, between 60 and 70 degrees Fahrenheit, in the summer to spend time outdoors as well as low average wind speed and rainfall. The city also has the largest average housing lot size among the ranked cities, perfect for backyard fire pits and roasting s'mores at home.
The other cities that topped the list include:
1. Nashville, TN
2. Salt Lake City, UT
3. Seattle, WA
4. Raleigh, NC
5. San Diego, CA
6. Charlotte, NC
7. Pittsburgh, PA
8. Columbus, OH
9. Louisville, KY
10. Austin, TX
With cities from the Mid-Atlantic to the Pacific Northwest, it's safe to say that Americans will have the chance to enjoy their fair share of s'mores this summer. No matter your location, the Pine Mountain ExtremeStart Firestarter is a must-have for campfire gatherings and s'more cook-offs. Wrapped for mess-free handling and compact in size, it's simple to store and transport. The ExtremeStart Firestarter eliminates the need for rolled newspaper, dried grass, or other kindling, accelerants or fluids, and avoids firestarting frustrations such as the unpleasant smell of lighter fluid and the obstacles of wet wood. With a clean burn and less flare up, it will keep your s'mores game strong all summer long.
Learn more about the ExtremeStart™ Firestarter and the full line of Pine Mountain® firelogs and firestarters at http://www.PineMountainFire.com or by visiting http://www.Facebook.com/PineMountainFire.
To view instructional how-to videos of Pine Mountain® firelogs and firestarters visit http://www.YouTube.com/PineMountainFire.
About Pine Mountain
Pine Mountain, a top selling brand of firelogs and the #1 brand of firestarters in the United States, has been adding warmth and a cozy ambience to any occasion for more than 20 years. The Pine Mountain® brand is a leader in the production and distribution of fire-related products, including: multi-purpose firelogs, multi-purpose firelogs made of natural materials, Java-Log® firelogs, StarterLogg® firestarters, and the Creosote Buster® chimney cleaning log. For more information, visit http://www.pinemountainfire.com. Pine Mountain® brand is part of Royal Oak Enterprises, LLC.