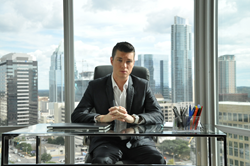 AUSTIN, Texas (PRWEB) July 10, 2018
Gallant is an award-winning entrepreneur who has grown some of the largest communities on Facebook.com. Gallant Dill is a true self-made entrepreneur who rose from the bottom. From a troubled past to a bright future, he is what some say is the American Dream. Gallant has worked with thousands of entrepreneurs across the globe and has placed products in almost every retail chain in the country. Before turning 25, he had been featured in 30 under 30 three times.
In recent news, word has been passing around the entrepreneur community that Gallant Dill himself is starting his own software company. That he is ready to rip the normal agenda apart and take no names. We got this report back from him directly. Stating he is giving it his all to see that this new venture will take off! He has never been so excited to work on a new project!
On June 15th, Gallant stopped the sales for all of his courses. He said he will no longer be selling courses and will be focusing on much bigger plays in the online arena. The post was not fake, because if you go to his website, none of his courses are available.
Gallant hasn't given too many details on his new software yet, but what he has told close sources is that it will be multiple tools for small businesses and will revolutionize the agency industry as we know it.
The software will be launching in mid November.
For more updates on Gallant Dill, subscribe to his website Gallantdill.com and GallantDillMentoring.com