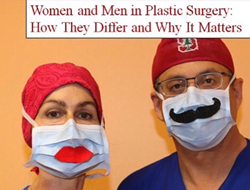 SANTA ROSA, Calif. (PRWEB) July 06, 2018
Plastic Surgery Associates is proud to present the latest research of practice founder, Heather Furnas, MD, with her recently released article in Plastic and Reconstructive Surgery: The Journal of the American Society of Plastic Surgeons. While the field of plastic surgery is largely dominated by men, Dr. Furnas' article, Gender Differences in the Professional and Personal Lives of Plastic Surgeons, takes an unprecedented look at the challenges faced by both male and female surgeons.
Dr. Furnas gathered information for her study using an anonymous electronic survey of 152 multiple choice questions, distributed to American Society of Plastic Surgeons members using SurveyMonkey software. Within the 757 surgeons who responded, 59.2% (448) were men and 40.8% (309) were women. The research focused on professional and personal issues that include:

Types of practice
Professional relationships
Negotiation and recognition
Gender-based perceptions
Career assessment
Marriage and relationships
Domestic duties
Work-life balance and stress
Retirement and finances
The role of the American Academy of Plastic Surgeons
In addition to the information presented by the current plastic surgery community, Dr. Furnas unpacked data regarding the low number of female medical students choosing plastic surgery as a specialty. She determined that a variety of factors play a role in a woman's specialty choice, such as lifestyle and the perception of plastic surgery's family-unfriendly traditions. Dr. Furnas also discusses the significant benefits female surgeons bring to the specialty, including significantly lower mortality rates, higher than average patient review ratings and being the doctor of choice for most female patients.
In conclusion, Dr. Furnas describes the difficulties of trying to achieve a proportionate balance of male and female plastic surgeons, "Gender imbalance can be self-perpetuating. As the numbers of female surgeons increases, so does their comfort level, supporting the theory that once a critical mass of approximately 35 percent is reached, members of an underrepresented sex or race are seen as individuals rather than representatives of their group,". She does, however, make it clear how important this gender shift is for the plastic surgery community as a whole. Dr. Furnas concludes, "The proportion of women entering our specialty is rising more quickly than men, but we must strive not only for gender parity in the specialty, but for a proportional representation of women in leadership, on faculties, and in higher ranks. Consequently, our specialty would benefit from changes to the infrastructure and traditions of plastic surgery to make it more welcoming to women and other underrepresented groups. A diverse population brings diversity of ideas."
ABOUT PLASTIC SURGERY ASSOCIATES
Plastic Surgery Associates was founded by Dr. Furnas and Francisco Canales, MD in 1992. Since its inception, the practice has grown to be one of the most respected plastic and cosmetic surgery providers in the United States. Dr. Furnas and Dr. Canales are both board certified plastic surgeons, each with more than 30 years of experience. They offer a variety of innovative, surgical cosmetic procedures, such as the rapid recovery breast augmentation technique, female genital rejuvenation, and the Mommy Makeover. Additionally, meeting the desire for nonsurgical techniques, Dr. Furnas and Dr. Canales have opened their Allegro MedSpa, bringing patients game-changing noninvasive techniques such as Botox, CoolSculpting, and Ultherapy.
Dr. Furnas' full article, Gender Differences in the Professional and Personal Lives of Plastic Surgeons, can be found online at Plastic and Reconstructive Surgery, the Journal of the American Society of Plastic Surgeons. For additional information on Plastic Surgery Associates, or to schedule a consultation with Dr. Furnas or Dr. Canales, call the Santa Rosa office at 707.537.2111. For patient convenience, Plastic Surgery Associates and Allegro MedSpa have a second location in Novato, California, as well. Those patients not from the northern California-area are encouraged to reach out to a patient coordinator for information on our virtual consultation, travel assistance and local lodging recommendations.
Contact Information
Plastic Surgery Associates
4625 Quigg Drive
Santa Rosa, California 95409
707.537.2111
http://www.enhanceyourimage.com