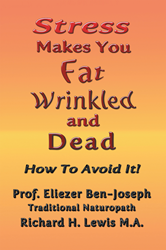 EL PASO, Texas (PRWEB) July 09, 2018
Many think that weight gain is caused by increased calorie intake, but did you know that there's another hidden culprit that could be contributing to your expanding waistline? It creeps up on us at work and at home and can manifest in many different forms. What could it possibly be? Stress.
Board certified traditional naturopath, holistic health instructor and certified personal trainer Prof. Eliezer Ben-Joseph has taught diet, nutrition and therapeutic body work for more than 25 years. He utilizes his expertise and explains how to relieve pain and diminish stress with "Stress Makes You Fat, Wrinkled and Dead: How to Avoid It."
Stress Makes You Fat features Dr. Ben-Joseph's knowledge of anatomy, physiology, natural remedies, and spirituality. The guide explores the effects of the stress response, and features healing stress reduction strategies and diets that decrease physical stress on the body. It also examines emotional life cycles and clarifies why weight gain, skin wrinkling and a lack of sleep from stress are prevalent problems in today's society.
"We were born and designed to live an optimal and a healthy life," Dr. Ben-Joseph said. "I have dedicated and spent my life researching the body—its systems, and the causes and reasons for illness, regeneration and pain. There really isn't an illness that hasn't started from somewhere and that somewhere can be tracked, unraveled, diagnosed and cured with proper understanding, attention, and the right avenue of healthy living and success."
For more information about Dr. Ben-Joseph or his book, please visit http://smyfwd.com/.
"Stress Makes You Fat, Wrinkled and Dead: How to Avoid It"
By Prof. Eliezer Ben-Joseph
ISBN: 978-1524692421 (hardcover), 9781524692414 (softcover)
Available at Amazon, Barnes and Noble and AuthorHouse
About the author
Professor Eliezer Ben-Joseph is a board certified traditional naturopath and the host of "Natural Solutions Radio." He has a Medicina Alternativa degree, a Doctor of Science and was granted a full Professorship in Medicina Alternativa from the "Open International University for Complementary Medicines" in Sri Lanka. He also has a bachelor of science degree and a master of science degree in Science and has studied Chiropractic and Osteopathic Medicine in Israel. He has been married to his wife Sandy for more than 37 years and has one daughter named Lacy. Today, Dr. Ben-Joseph and his wife own and operate a comprehensive traditional naturopathic outpatient facility in El Paso, Texas.
###