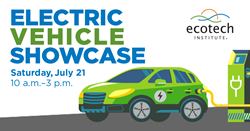 AURORA, Colo. (PRWEB) July 09, 2018
Ecotech Institute, a college specializing in preparing graduates for solar and wind energy, power utility and electronics technology careers, invites the community to attend a special Electric Vehicle Showcase event featuring Denver Tesla Club, Denver Electric Vehicle Council, and Bicycle Village. Taking place on the school's campus on Saturday, July 21 from 10 a.m. – 3 p.m., this fun and family-friendly event will showcase the latest in electric vehicles and bikes, while also featuring food trucks, ice cream and more!
WHO: Ecotech Institute, Denver Tesla Club, Denver Electric Vehicle Council and Bicycle Village.
WHAT: The Electric Vehicle Showcase will offer visitors an opportunity to get a glimpse into the future of electric vehicles in an interactive and fun family-friendly atmosphere.
WHEN: Saturday, July 21, 2018 from 10 a.m. to 3 p.m. MST.
WHERE: Ecotech Institute, 1400 S. Abilene Street, Aurora, CO 80012.
RSVP: The event is free and open to the public. For more information, contact Laura Leitner at 720.213.2601 ext. 4601.
At the Electric Vehicle Showcase, you'll have the opportunity to join the community in learning about the environmental benefits of electric drive technologies and their potential for helping Colorado's transportation needs. Get behind the wheel and speak with local EV owners and experts who are prepared to answer any questions you may have about owning and driving an electric vehicle.
We hope you'll join us, as we explore the world of electric transportation.
About Ecotech Institute
Ecotech Institute is a college solely focused on renewable energy education. Located in Aurora, Colo., Ecotech Institute offers an array of practical diploma programs that prepare students for careers in the energy industry, with an emphasis on the fields of renewable energy, sustainability and energy efficiency. Through flexible programs designed to meet diverse career goals, students get the hands-on training they need to be successful in these high-tech industries. Ecotech Institute is a division of Education Corporation of America. For more information about Ecotech Institute, visit ecotechinstitute.com or call (303) 586-5290.