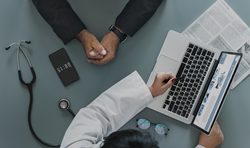 "Ultimately, the decision-making authority stays with the DPOA," says Lisa Mayfield, Aging Life Care Association President-Elect, "but the coordination of care is outsourced to a capable professional."
(PRWEB) July 10, 2018
Becoming an older loved one's Durable Power of Attorney—or DPOA—can bring with it a variety of challenges. DPOAs can find themselves facing decisions and responsibilities that they may not feel prepared to handle. This can be especially true with Guardianship—wherein a court appoints the person responsible for an individual's medical and financial decisions. Aging Life Care Managers™ can help to navigate these overwhelming situations through careful observation and a dedication to promoting the wellbeing of all those involved.
Aging Life Care Managers are professionals who often come from nursing or social work backgrounds. They are hired by families to assess and coordinate a loved one's health care needs, whether it includes implementing a plan to age in place, moving to an assisted living facility, or simply communicating with distant family about a loved one's day to day reality.
There are many ways that an Aging Life Care Manager can help a family navigating a DPOA or Guardian role. This includes:

When a DPOA lives far away. An ALCM can become the 'eyes and ears' for a family member who feels that they live too far to be effective in their role. ALCMs can oversee and coordinate care, whether that be in an older adult's home or in a setting where care is provided.
When the DPOA is an older adult, themselves. Sometimes, those chosen for a DPOA role feel that their own health or life situation prevents them from engaging with the duties and responsibilities assigned to them. ALCMs can handle the day to day pieces that feel overwhelming, taking the primary burdens and tasks away.
When two or more people share the DPOA role. It can be difficult to agree on care decisions when more than one family member is responsible. ALCMs can serve as a tie breaker when those in the DPOA can't come to agreement. ALCMs can also mediate and help to bring opposing sides to the table.
The DPOA is an acquaintance. If an older adult chooses someone like a friend, former colleague, or neighbor, the role can often evolve to become more than that person is willing to take one. If an ALCM is engaged, he or she can take over the time consuming and stressful pieces, such as coordinating discharge from the hospital, finding appropriate care, or overseeing caregivers in the home.
"Ultimately, the decision-making authority stays with the DPOA," says Lisa Mayfield, Aging Life Care Association President-Elect, "but the coordination of care is outsourced to a capable professional."
As the media has shown, there is a potential for abuse of the DPOA or Guardianship role, whether physical or financial. Aging Life Care Managers can help keep vulnerable adults safe by being a consultant on care decisions and an observer to be on the watch for potential red flags that could point to exploitation.
If your family is facing a DPOA role or a petition for Guardianship, you can find an Aging Life Care Manager in your area at aginglifecare.org.
###
ABOUT the Aging Life Care Association (ALCA)
ALCA (formerly known as the National Association of Professional Geriatric Care Managers) was formed in 1985 to advance dignified care for older adults and their families in the United States. Aging Life Care Professionals® have extensive training and experience working with older adults, people with disabilities, and families who need assistance with caregiving issues. They assist families in the search for a suitable nursing home placement or extended care if the need occurs. The practice of Aging Life Care™ and the role of care providers have captured a national spotlight, as generations of Baby Boomers age in the United States and abroad. For more information or to access a nationwide directory of Aging Life Care Professionals, please visit aginglifecare.org.