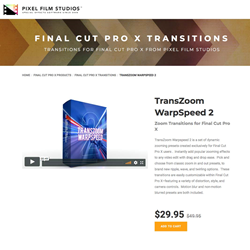 "TransZoom WarpSpeed 2 is the next entry in one of the bestselling lines of products Pixel Film Studios offers using incredible zoom transitions that bring any FCPX project to life!"
ALISO VIEJO, Calif. (PRWEB) July 12, 2018
TransZoom Warpspee d 2 is a set of dynamic zooming presets created exclusively for Final Cut Pro X users. Instantly add popular zooming effects to any video edit with drag and drop ease. Pick and choose from classic zoom in and out presets, to brand new ripple, wave, and twirling options. These transitions are easily customizable within Final Cut Pro X–featuring a variety of distortion, style, and camera controls. Motion blur and non-motion blurred presets are both included.
The sequel to TransZoom Warpspeed features amazing presets with realistic motion blur and enhanced animations with customization options. Achieve popular zooming effects with drag and drop ease. Pick and choose from classic zoom in, zoom out, rolling, and corner presets. TransZoom Warpspeed 2 also includes a new jiggle, ripple wave, spin, and twirl presets. Instantly transform any video edit with these incredible presets.
TransZoom Warpspeed 2 includes motion blurred and non-motion blurred presets to accommodate users with old and new computers alike. Editors may select non-motion blurred presets for faster render speeds, or choose to select motion blurred presets for a more polished look. Motion blurred presets may take a bit longer to render but the results are well worth the wait!
TransZoom Warpspeed 2 presets feature a variety of control categories including distortion, style, and camera. With distortion controls, users can adjust bulge and twirl amount. Using style controls, editors can add prism, light rays, direction, and additional blur between scenes. Lastly, presets with camera controls allow users to add a shake to the transition.
A great zooming effect is a perfect complement to YouTube vlogs, cinematic edits, and quick cutting commercials. Utilize TransZoom Warpspeed 2 to jump from aerial footage into ground shots, or use rolling presets to change settings in the blink of an eye. Add this versatile set of transitions to Final Cut Pro X transition library today!
Established in 2006, Aliso Viejo, California-based Pixel Film Studios is an innovative developer of visual effects tools for the post-production and broadcast community. Their products are integrated with popular non-linear editing and compositing products from Apple FCPX. Apple, the Apple logo, Mac OS X, and Macintosh are registered trademarks of Apple Inc. in the U.S. and/or other countries. All other trademarks and trade names are the property of their respective owners.