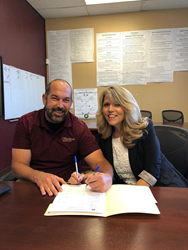 I was inspired by the change in the course of my life 29 years ago when I took my first Dale Carnegie course" -Tom Schneider, CEO, Dale Carnegie Training Northern California
SACRAMENTO, Calif. (PRWEB) July 10, 2018
Dale Carnegie Sacramento will now be known as Dale Carnegie Training of Northern California, and the new name is not the only major change. Donna Cookson and Tom Schneider purchased the franchise in May, which will now expand to 24 counties in the state of California. Dale Carnegie Training, founded in 1912, is a personal and professional development organization whose training methods are proven to sharpen professional skills and transform people into successful, fulfilled individuals.
Owner Donna Cookson spent 22 years as a small business owner of a catering and event planning company and a 42-acre almond farm in Central California. Her education includes an AA in Business Administration, a Bachelor's Degree in Legal Studies, and a Culinary Arts Degree from Le Cordon Bleu. She spent four years in restaurant management and five years as an outside sales representative in the food industry. She has certifications in multiple coaching platforms including Neuro-Linguistic Programming and hypnosis. She has been a professional development coach and consultant over the last two years. "I have a passion for training and developing others to help them achieve their goals. I took my first Dale Carnegie course over 25 years ago!" says Cookson.
"I was inspired by the change in the course of my life 29 years ago when I took my first Dale Carnegie course in San Mateo, CA," says Owner Tom Schneider, who has owned his manufacturing businesses, WhisperKOOL and Ultra Wine Racks, for over 18 years. He has a passion for creating a culture that empowers employees to learn and grow. He looks forward to taking his passion to a whole new level by helping people of all walks of life achieve success through education and training with Dale Carnegie.
Cookson and Schneider hope to expand Dale Carnegie's reach and brand across their territory, building a solid community of individuals and organizations who wish to grow in the areas of communication, sales, presentation skills, and more. The newly minted Dale Carnegie Training of Northern California will officially launch with a kickoff party on Monday, July 9 from 5:30 - 7:30 PM at Piatti's Restaurant in Sacramento. Notable speakers are emcee Rob Stewart (KVIE's Rob on the Road) and Sacramento Mayor Darrell Steinberg.
Dale Carnegie Training of Northern California
For over a century, Dale Carnegie has been improving individual and business performance around the world. While our training techniques continue to evolve, our core principles remain true to a single vision: real transformation begins within.You can learn more about Dale Carnegie Training of Northern California on the web at http://sacramento.dalecarnegie.com/