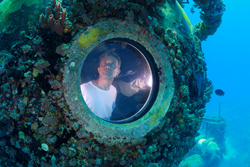 "We need everyone to understand that our natural resources are our bank account. We cannot let our ecosystem go bankrupt. We need to start living off of the interest that it bears and start leaving the capital alone." - Ocean explorer and advocate Fabien Cousteau
CHATTANOOGA, Tenn. (PRWEB) July 08, 2018
It's almost unimaginable anyone would give a preschooler a weight belt, mask, and air tank and invite them to dive into the open ocean. Unless of course, his or her last name is Cousteau.
"I've been SCUBA diving since my fourth birthday," laughs Fabien Cousteau, the grandson of famed ocean advocate and documentarian Jacques Cousteau. "It's always been an integral part of my life. Of course, when you are young, you don't necessarily understand the full implications of how lucky you are to have such an unusual upbringing."
By age seven, Fabian began accompanying his grandfather and equally famous father, Jean-Michel, on expeditions around the world. The deck of the Cousteau family's famed research vessel, Calypso, became a kind of classroom, where his mind was opened by the sea creatures he observed and the cultural exchanges he experienced.
On July 19, Cousteau will appear at the Tennessee Aquarium to share some of his memories of ocean exploration while helping raise awareness and support for the Aquarium's freshwater conservation projects.
"I know about the fabulous work that the Aquarium is doing, and it's very exciting," Cousteau says. "You are getting the local community actively involved in a really positive way. Getting more people interested and invested in the conservation of aquatic ecosystems is something I truly believe is the essence of what my grandfather was always preaching."
Among the many environmental challenges facing our world today, Cousteau is highly concerned about the plastic soup building up in the world's ocean basins. Circular ocean currents called gyres have trapped floating plastic debris, creating semi-permanent islands comprised of single-use plastic objects, plastic bags, and discarded fishing nets. Some are 90 feet thick and as large as the state of Texas. Larger objects in these "islands" can entangle sea creatures and are often mistakenly eaten.
Compounding the problem, much of this debris erodes into microplastic fragments, which can affect the entire aquatic food chain, from microscopic life to the humans who consume contaminated seafood.
"People need to understand that plastic breaks up, not down," Cousteau says. "There are now more than 35,000 tiny pieces of plastic per square mile over the entire ocean. These tiny particles attract and concentrate other chemicals. When toxic microplastics are eaten by fish, they make their way into food webs, which end up in our food through sea life."
Researchers estimate that 80 percent of the microplastics enter the oceans by flowing through inland waterways along with silt and other contaminants.
In spite of the enormous challenges of aquatic conservation, Cousteau remains hopeful they can be surmounted. Colleges and universities are requiring students to undertake environmental courses for a variety of degrees, including business and healthcare, and a new wave of innovative thinkers are seeking novel, tech-forward solutions to environmental problems through robotics and the creation of alternative energies and materials.
Residents in cities like Chattanooga will also play a critical role in reversing the current trends, Cousteau says.
"Local communities cherish rivers and lakes and get very protective of these bodies of water because once they become polluted, you see the repercussions in immediate ways," he says. "And protecting from invasive species like Asian Carp or restoring native species like Lake Sturgeon or Brook Trout is certainly something we should all be enthusiastic about supporting."
Freshwater ecosystems are the roots of our ocean, he adds, and as such, they should be treasured and protected.
"We need everyone to understand that our natural resources are our bank account," Cousteau says. "We cannot let our ecosystem go bankrupt. We need to start living off of the interest that it bears and start leaving the capital alone. If we can get more people to think this way, I think it breeds hope for our future."