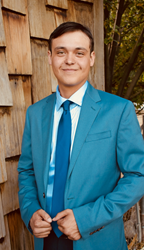 This industry is supporting our culture and inspiring future generations to continue our traditions.
RENO, Nev. (PRWEB) July 09, 2018
A new era of Native American tribal business leaders have built a thriving cannabis industry in Nevada, boosting business opportunities and providing much needed tax revenue to social programs and government services. Ely Shoshone Tribal Council member Trent Griffith has spear-headed this economic revival as manager of Tsaa Nesunkwa dispensary and cultivation operations, located at 963 S. Pioche Highway, in Ely, Nevada.
Only twenty-three years-old, Griffith is an industrious pioneer who has brought millennial ingenuity to his tribe's cannabis endeavors. Before entering the industry, Griffith lobbied at the Nevada Governor's Office for pro-cannabis legislation with the support and direction of the Ely Shoshone Tribal Council, alongside renowned tribal leader Chairwoman Laurie Thom of the Yerington Paiute. Griffith has been involved with the program for over three years and continues to excel as operations manager.
Tsaa Nesunkwa received a dispensary and cultivation license from the Ely Shoshone Tribal Council, with the assistance of Tribal Cannabis Consulting, a national consulting firm specializing in Native American cannabis policy. The firm was instrumental in establishing the first cannabis compacts between the Governor's Office and the Ely Shoshone and Yerington Paiute tribe. Tribal Cannabis Consulting currently represents four other groups, including the Lovelock Paiute, Walker River Paiute, and Pyramid Lake Paiute.
Griffith was hired by Tribal Cannabis Consulting to lead operations after the firm witnessed his tireless dedication to lobbying efforts, and his ability to join forces with other indigenous tribes on cannabis initiatives.
"This industry is supporting our culture and inspiring future generations to continue our traditions. Tsaa Nesunkwa literally translates as, 'to feel good,' in Shoshone," stated Griffith. "That's what this program is all about and it was only possible because the Nevada tribes united to push for SB-375. Our Tribal Council is forever grateful to Governor Sandoval for allowing this economic development to happen for our tribes."
Griffith now manages both dispensary and cultivation operations overseeing a fifteen-person staff, a mix of both Ely Shoshone Tribal members and Ely Nevada residents. He also oversees the tribe's vegetable garden, using recycled soil from the cultivation facility.
A well-respected member of the community, Griffith serves as president of Newe Ghani, a nonprofit organization, currently funding the building of a Shoshone cultural center. Griffith has also written a children's book, designed video games, and other interactive educational resources to encourage Shoshone youth to learn and speak the language of their forefathers. The revenue from the cannabis program has supported the sponsorship of community Pow Wows and traditional plant picking outings. It also has generously donated a percentage of tax revenue to the White Pine County Boys and Girls club to help fund summer and after school youth programs for all youth of the community, not just native children.
In the next few months, Griffith's business responsibilities will increase. The Tribal Council moved to approve Tsaa Nesunkwa, vertically integrating its operations to launch its own branded vape line while working hand in hand with National Cannabis Brand "Pat Pen" of Colorado, and other cannabis-infused products.
The Ely Shoshone Tribal Council and Chairwoman Diana Buckner have offered to share in the tax revenue with the City of Ely and the County of White Pine, to make sure all the money from cannabis stays in White Pine County and truly goes towards bettering the community as a whole for all the people of Ely. The City Council and Mayor VanCamp will vote on the compact in the coming weeks.
Tribal Cannabis Consulting has helped Native Americans like Griffith and non-natives find new career channels in the national cannabis market, while promoting the institution of infrastructure and regulatory systems on tribal lands. A full-service firm, the company builds seed-to-sale tracking systems, runs commercial dispensary and cultivation facilities, infusion centers, and has licensed dozens of legal cannabis operations.
For more information visit tribalcannabisconsulting.com.
About Tribal Cannabis Consulting:
Tribal Cannabis Consulting (TCC) provides quality solutions to businesses that desire to start, or further their existence in the marijuana industry. TCC offers a full spectrum of services, from capital investments and funding development strategies, to consultations and complete development partnerships. TCC understands the unique challenges that marijuana businesses face today. It's team of expert consultants are former industry owners and operators from throughout the United States. For more information visit tribalcannabisconsulting.com