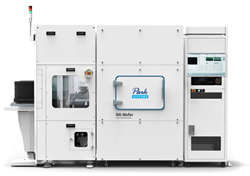 Park Systems AFM-based inline nanoscale metrology has become an integral part of Semiconductor Manufacturing since the inception of AFM, demonstrating vast technological advances in failure analysis, defect review and throughput.
SANTA CLARA, Calif. (PRWEB) July 08, 2018
Park Systems, a leader in Atomic Force Microscopy (AFM) since 1997 is hosting their annualfree AFM Luncheon for all SEMICONWest attendees and Park customers on July 10, 2018 from 12-2pm at the ThirstyBearBrewing Company located on 661 Howard Street, San Francisco, less than a 5-minute walk from South Hall of the Moscone Center. The featured speaker at this year's luncheon is Robert G. Biskeborn, The IBM Distinguished Scientist at IBM Almaden,on the exciting topic,"Multichannel Magnetic Recording Heads Surface Microscopy".
The Park AFM Semicon West Luncheon is FREE to all SemiconWest Attendees and Park Customers.
To register for the luncheon, go to: parksystems.com/semiconwest2018.
At the AFM luncheon, Park Systems CEO and Founder, Dr. Sang-il Park will give a presentation on next generation AFM metrology for semiconductorshighlighting Park Systems fast-paced leadership role in nanoscale innovations to improve accuracy, reliability and reduce cost for semiconductor manufacturers and their role as a leading innovator in emerging nanoscale microscopy and metrology technology.
"Park Systems AFM-based inline nanoscale metrology has become an integral part of Semiconductor Manufacturing since the inception of AFM, demonstrating vast technological advances in failure analysis, defect review and throughput," stated Dr. Sang-il Park, CEO of Park Systems. "The next generation AFM Metrology for Semiconductors continues to integrate the functionality of nanoscale imaging solutions using advanced nanometrology tools like Park AFM."
The annual Semicon West Park AFM luncheon offers an exciting chance to network with other attendees and hear from industry pioneers at an informal gathering.Park Systems will exhibit their line of world class Atomic Force Microscopes featuring revolutionary Park SmartScan™ automation and True Non-Contact™ at SEMICON West, the premier annual event for the global microelectronics industry with an expected attendance of over 25,000 visitors. Over the years, Park Systems' ability to consistently outpace the competition with critical technology innovations for Semiconductor Manufacturing's cutting edge wafer production has made them a world-leader in Atomic Force Microscopes and nanometrology.
Park Systems cost saving value proposition innovations for semiconductor manufacturers include Park NX-Wafer, designed specifically for the semiconductor industry and improving productivity by up to 1000%. Park NX-Wafer is the only wafer fab Atomic Force Microscope with automatic defect reviewand True Non-Contact™ Mode AFM enabling a critical inline process to classify defect types and source their origin through high resolution 3D imaging, scanning capacitance microscopy and scanning spreading resistance microscopy.
About Robert G. Biskeborn
Dr. Biskeborn received his Ph.Ddegree in physics from Columbia University in 1978 and is a member of the American Physical Society and a Distinguished Scientist at the IBM Almaden Research Center.He started his career at IBM in 1978 where he worked in advanced packaging technology and later transferred to an advanced bipolar device design and technology group. Among his accomplishments is reinventing module thermal packaging, aspects of which became incorporated in the IBM System/390. In 1990, he transferred to the IBM Storage Systems Division in San Jose, California where he has been working in both disk and tape storage technologies. His work has revolutionized the design and implementation of magnetic heads that are a critical component of high-end recording systems.
Registration for the luncheon is ongoing and can be done online at parksystems.com/semiconwest2018 or via email inquiry(at)parksystems.com, or for more details contact Park Systems at 408-986-1110.
About Park Systems
Park Systems is a world-leading manufacturer of atomic force microscopy (AFM) systems with a complete range of products for researchers and industry engineers in chemistry, materials, physics, life sciences, and semiconductor and data storage industries. Park's products are used by over a thousand of institutions and corporations worldwide. Park's AFM provides highest data accuracy at nanoscale resolution, superior productivity, and lowest operating cost thanks to its unique technology and innovative engineering. Park Systems, Inc. is headquartered in Santa Clara, California with its global manufacturing, and R&D headquarters in Suwon, Korea. Park's products are sold and supported worldwide with regional headquarters in the US, Germany, Korea, Japan, China and Singapore, and distribution partners throughout Europe, Asia, and Americas. Please visit http://www.parksystems.com or email inquiry@parksystems.com for more information.