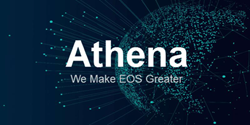 SAN FRANCISCO (PRWEB) July 09, 2018
Athena is a new high-performance public blockchain project & a distributed trust collaboration platform for eos ecosystems. For a long time, the high cost of trust verification in the traditional system has been a big problem of various industries. Athena, a distributed trust ecosystem based on self-developed mainchain platform, was born against this background. Since its inception, it has been endeavoring to address the trust problem in the EOS system. The goal is to build a distributed trust platform in the EOS ecosystem, and combine advanced distributed blockchain technology to establish a mufti-dimensional trust system across applications, chains and systems, thus fundamentally solving the problem of high cost of trust verification in the traditional system.
AnaGo is Athena's upcoming 'super app' integrating instant messaging, Dapp browser, and market trading. By combining Athena's trust system with encrypted chat and decentralized socializing, it provides a secure, high-speed, and trustworthy social network and quickly establishes a credit system between products and users, which makes it easier and more efficient to access various DAPP services and real-time market transactions.
As an application based on the distributed trust ecosystem of Athena, AnaGo has the following major features:
Decentralized social network
AnaGo provides a secure, high-speed, trustworthy and decentralized social network that helps users communicate globally without violating privacy.
Light wallet
AnaGo integrates light wallets that support multiple digital currencies. Relying on Athena's security system, AnaGo enables rapid cross-chain transactions and greatly improves the efficiency and security of the crypto wallet.
Decentralized exchange
A decentralized exchange will be integrated into AnaGo, which will better support cross-chain and multi-chain transactions owing to Athena's multi-dimensional distributed trust ecosystem, thereby improving transaction efficiency and reducing transaction costs.
Identity and trust system
AnaGo, based on Athena's identity trust system, is a bridge between traditional Internet and blockchain technology. It will be widely used in job hunting, asset management, charity, copyright protection, etc.
Advanced privacy protection system
AnaGo can better protect user privacy by providing a secure and easy-to-use trust framework because Athena's decentralized trust system does not store users' private information on centralized servers.
Learn more about AnaGo:
Twitter: @AthenaPlatform
WebSite: http://www.athena.pub
telegram: https://t.me/AthenaEN
email: contact(at)athena(dot)pub