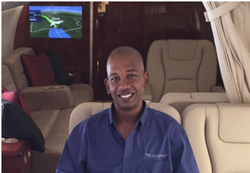 Winners are born champions are made!
PHOENIX (PRWEB) July 08, 2018
Michael Gilburd, CEO of Boink Live Streaming Corp. http://www.boinklive.com, announced today "As our VP of Corporate Development, Sean Green, who is the lead in our Sports & Entertainment division, having specialized in this sector for more than twenty years, is excellent at introducing and working alongside celebrities for their use of our Bonk Be.Live app." Working with Sean, his long-time colleague at American Express, Gilburd believes there will be several more entertainers and athletes who will seek to send their messages through the new version of Bonk Be.Live. With twenty plus years background in Corporate Development and the Financial Services Sector including seven years with American Express Financial Advisors/Ameriprise, Sean has worked in Mergers and Acquisitions, Residential/Commercial Correspondent Lending, Financial Planning, as well as Private Aviation within areas of Strategical Alliances, Charter, Maintenance, and Fuel Sales. Sean has served ultra-high net worth individuals within the Corporate and Sports/Entertainment arena, in addition to having Municipalities, Small Businesses, and Fortune 500 Companies as valued clientele. Sean graduated in 1998 from The University of Illinois in Champaign-Urbana, obtaining a Bachelor of Health Science with an emphasis in Business.
About Bonk Be. Live
Bonk Be. Live is a tool for broadcasting live-streaming videos and watching others perform. With Bonk Be. Live you can log in with a phone number, Facebook account, or Instagram account.
BonkBe. Live is the best App for Superstars, Performers and Aspiring Stars who want to keep their fans updated. Bonk Be. Live Star Broadcasters interact with fans worldwide. Professional Athletes, Singers, Dancers, Motion Picture Stars, Famous DJs, Rappers, YouTube celebrities, and Facebook top influencers, all can connect to millions of fans, while new broadcasters have fun online endeavoring to become the next Bonk Be. Live star!