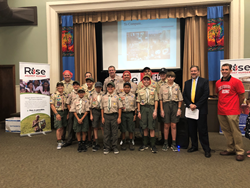 "As humans, we've climbed the highest peaks and advanced in all levels, however hunger still exists — when you package a meal with Rise Against Hunger, you are simultaneously empowering people to become nourished and live a healthy life."
SAN JOSE, Calif. (PRWEB) July 09, 2018
Rise Against Hunger, an international hunger relief non-profit organization, joined together with Boy Scout Troop 233 this weekend to package 3,000 meals for distribution across the world to people in need and to celebrate the official launch of the Rise Against Hunger's Silicon Valley location.
Rise Against Hunger's vision is to end hunger by 2030, which is also aligned with the United Nations as Sustainable Development Goal 2. The organization's Meal Packaging Events are a volunteer-based program that coordinates the streamlined packaging of highly nutritious dehydrated meals comprised of rice, soy, vegetables and 23 essential vitamins and minerals. After packaging, the meals are shipped to countries around the globe and distributed to beneficiaries in critical need.
"I don't have a job — I have a privilege," said Jeremy Loader, Rise Against Hunger's Silicon Valley Community Engagement Manager. "I can't imagine not being able to send my three kids to the fridge for a meal, and now I have the opportunity to educate the community in Silicon Valley on world hunger and food insecurity and to me, that is a true honor."
Around the world, just over 815 million people lack adequate food. One in nine people go to bed hungry each night. Rise Against Hunger works to meet immediate nutritional needs today and empower people to build strong, resilient communities tomorrow.
At the event, Rise Against Hunger received a Certificate of Special Congressional Recognition by District CA-17 signed by Congressman Ro Khanna. Ashwini Wagle, Ed. D, MS, RD, from the Department of Nutrition, Food Science and Packaging at San Jose State University, was the keynote speaker on hunger and food security.
"Hunger is unacceptable and it needs to end," said Wagle. "As humans, we've climbed the highest peaks and advanced in all levels, however hunger still exists — when you package a meal with Rise Against Hunger, you are simultaneously empowering people to become nourished and live a healthy life."
Rise Against Hunger operates meal packaging locations in 25 cities throughout the U.S. and five international locations in South Africa, Malaysia, the Philippines, Italy and India. The organization's Silicon Valley location is the first of four new Golden State locations to open this summer. Rise Against Hunger projects that the addition of the Silicon Valley location will lead to over 1.6 million meals packaged by the end of 2018.
Under the organization's California Rising Program, Golden State Hunger Champions can look for Rise Against Hunger locations in Los Angeles, San Diego and Sacramento.
ABOUT RISE AGAINST HUNGER
Rise Against Hunger, an international hunger relief organization, aims to show the world that it is, in fact, possible to end hunger by the year 2030. With 20 U.S. locations and five international offices, the organization is committed to nourishing lives, providing emergency aid, empowering communities and growing the hunger movement. Rise Against Hunger has facilitated meal packaging of more than 404 million meals to be distributed to 74 countries around the world.