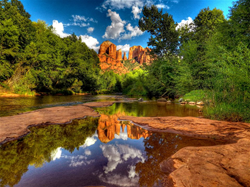 Heal, Awaken and Reclaim your Power
SEDONA, Ariz. (PRWEB) July 09, 2018
Shamangelic Healing, with Anahata Ananda, has been a popular form of restorative therapy since the opening of her Shamangelic Healing Center in Sedona, Arizona. She is currently offering tailored, personal retreats for individuals or couples seeking to overcome core life challenges. Career transitions, a shift in a living situation or divorce, a health diagnosis or sometimes a spiritual emergence are the top reasons her services have been sought out. People serious about altering their life at a deep level are drawn to experience this journey with Anahata within the powerful vortexes of sacred Sedona. Shamangelic Tailored Retreats have also been done by brides, grooms and the wedding party to be prepared to start off with the tools for long lasting, healthy, conscious relationships among everyone in the newly formed family.
"I have passionately guided thousands of individuals on inward soulful transformational journeys that empower them to release their fears, heal deep wounds, open their hearts and reclaim their power," says Anahata. This is her signature, tailored Sedona retreat experience. She adds, "This option is perfect if you are going through some big life changes or seeking some intensive support tailored to the address the issues most pressing for you at this time. This may include a focus on emotional wounds, spiritual awakening, various relationship concerns, life-purpose guidance, physical health issues, grief, addiction challenges, past traumas, tailored training/courses or other relevant concerns." The retreat begins with a Shamangelic Healing Journey and then two to eight other sessions are selected, some of which may include a sacred land journey, core healing sessions, conscious relationship tools, spiritual awakening practices, vibrant health support, training courses and others to choose from.
The Shamangelic Healing Center's founder provides a supportive environment and interactive learning to share the knowledge she's gained over decades of studying with Shamans and empowering the lives of others. The powerful vortex energy of Sedona is utilized in Anahata's healing sessions and land journeys. Those who would like to learn to connect to the natural world more deeply can choose to be guided by Anahata's vast knowledge of the area of Sedona, over the course of several days. "Integration time is important," she points out. Clients can enjoy some relaxation in between sessions, if they choose, by spanning the retreat duration over a few days. This gives visitors the ability to enjoy some of the other amenities Sedona has to offer.
"Combining the beauty and power of Sacred Sedona with a personalized Shamangelic Tailored Retreat is a very effective way to get to the root cause of what's holding you back from living the thriving life you want," shares Anahata. One of the popular Medicine Wheel Land Journey sessions leads participants outside among the famous red rocks to release stuck emotions and rejuvenate new goals. Anahata reveals, "Being among the elements of nature can amplify healing, and the connection to the earth uplifts our intentions."
Anahata Ananda has trained extensively with gifted shamans, energy healers and spiritual teachers from around the world to artfully integrate the fields of spirituality, energy, self-empowerment and shamanic teachings. Her client-base spans the globe with individuals from all walks of life who are seeking to heal and awaken to their fullest potential.
Shamangelic Healing is a premier center for Shamanic healing and spiritual awakening in Sedona. It is nestled beneath Thunder Mountain with breathtaking views and within walking distance to a medicine wheel and restorative vortexes, making it the perfect setting for personal transformation and expansion.
For detailed descriptions and a calendar of all training courses and spiritual awakening services offered by Anahata visit http://www.shamangelichealing.com/