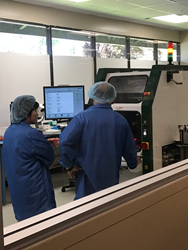 "...In the last couple of years, we've experienced an inflow of projects not usually suitable for traditional SMT manufacturing. These involve IoT, wearable, and other small footprint products requiring greater PCB functionality..." Zulki Khan, NexLogic Founder and CEO
SAN JOSE, Calif. (PRWEB) July 10, 2018
NexLogic Technologies, Inc. announced during Semicon West 2018, July 10-12 that it is entering into the growing PCB field of microelectronics with the completion of its Class 10,000 and Class 1,000 under the hood cleanroom. The company has the full complement of leading edge technologies, microelectronics manufacturing systems and personnel to meet customer requirements.
The new set of services NexLogic now offers are:

Wire Bonding/ Wedge Bonding / Ball bonding
COB - Chip On Board Assembly
MCM (Multi Chip Module) and Flip Chip Assembly
RF Microwave, Opto-Electronics and Photonics Assembly
ACF Bonding
Chip and Die Attach
NexLogic President and Founder, Zulki Khan said, "We've been in business for the last 23 years. In the last couple of years, we've experienced an inflow of projects not usually suitable for traditional SMT manufacturing. These involve IoT, wearable, and other small footprint products requiring greater PCB functionality. These newer devices require component placement directly onto the substrate and bypassing conventional packaging."
NexLogic has made CAPEX investments including a new Class 10,000 cleanroom, and have hired fully trained personnel to comply with this growing industry demand. A HESSE Bondjet BJ820 fully automatic fine wire bonder is at the forefront of NexLogic' s microelectronics manufacturing systems. It is capable of ball, wedge, and wire bonding using aluminum, copper, or gold wires.
A Janome JR3303 Robotic level flux and epoxy dispenser, TPT-HB16 Wire/Ball Bonder, Royce 620 Multi-test Bond Tester and sheer strength puller, and Keyence VK-X1000 Profile Measurement Microscope for wire bond inspection and verification system complement the HESSE fine wire bonder. In particular, the Keyence inspection system inspects and verifies wire bonds and bends to micron level accuracy.
About Nexlogic Technologies, Inc.
1995-2018 23rd anniversary year and selected among the Top 10 EMS Providers in Silicon Valley -- https://www.ventureoutsource.com/contract-manufacturing/top-10-ems-providers-in-california-silicon-valley-bay-area-2017/
An ISO 9001:2008, ISO 13485 Certified, and RoHS compliant EMS provider, NexLogic is a leading electronic manufacturing services provider that offers total integrated circuit board solutions. The company was established in 1995 and serves over 200 customers in North America. NexLogic' s mission is to be the best electronic manufacturing services (EMS) provider to the markets it serves through high quality and an efficient manufacturing process.