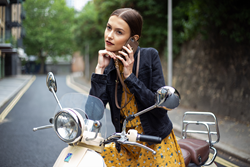 Our aim was to create a stylish and functional solution for busy women... The result is a beautiful accessory that goes with everything.
LONDON (PRWEB) July 11, 2018
British premium leather wallet and iPhone accessories brand Vaultskin has launched its first women's fashion accessory. The VICTORIA, a crossbody iPhone case for iPhone 6, 6(S), 7, 8 and X features space for cards, cash and small items, and will appeal to discerning fashionistas who want to stay in touch, take pictures and pay effortlessly and stylishly.
The perfect combination of luxury, convenience and comfort, the VICTORIA is crafted from top-grain Italian leather and superior quality metal finishes. Worn across the body and over the shoulder with an adjustable strap or held in the hand, your phone is always within a hand's reach, whether you're shopping, walking the dog, travelling to a dream destination or dancing at a festival.
Vaultskin® CEO, Thomas Kaprov, is confident that while there are several other iPhone cases on the market, the VICTORIA is the most luxurious in its category. "Our aim was to create a stylish and functional solution for busy women who always need to be connected. This accessory means no more frantic scratching around in your handbag or scrambling to see where you've left your phone. And because the strap allows you to wear your phone on your body, it can also help protect you from pickpockets."
"We understand that a high-end phone case is an investment, so we wanted to ensure that ours could be cherished for years to come. Our team spent several months consulting with buyers from one of the world's leading department stores to perfect the design and source premium materials. The result is a beautiful accessory that goes with everything."
Made from top-grain Italian leather, with high-quality metal finishes and precise hand-stitching, the VICTORIA holds iPhone 6, 6(S), 7, 8 and X (launching in August 2018). Sleek, secure pockets let you store up to eight cards and small items such as cash, a few keys and a memory card. Available in Midnight Black, Spanish Violet, Winsor Red, Heartwood Brown and Champagne, it retails at £119, €135 and $149. For more information please visit http://www.vaultskin.com/victoria. To see the VICTORIA in action please see https://youtu.be/1qC-B50A7Mk and https://youtu.be/AnrXBL58Lg4.
ABOUT VAULTSKIN®
Vaultskin® specializes in the design and manufacture of premium, minimalist wallets and iPhone accessories. Founded in 2012 and headquartered in London, the brand prides itself on innovation, functionality and design. With extensive knowledge and experience in product, industrial and accessories design, as well as leather craft, Vaultskin's multi-disciplined team produce a range renowned for its sleek lines, lightweight qualities and competitive pricing. Vaultskin® also conceptualized the VAULTCARD™ (launched in 2016), the most effective personal RFID (radio-frequency identification) protection device which helps protect against identity and banking information theft. This technology is also a feature of most of its products.
VICTORIA specifications:

Phone case
Designed for Apple iPhone 6, 6(S), 7, 8
Designed for Apple iPhone X (to be launched in August)
Case measures 5.71" x 2.83" / 145mm X 72mm
Weight (without strap) weighs 1.76 oz/ 50 grams
Features storage groove for an extra SIM card
Strap
Sturdy, comfortable, detachable and adjustable crossbody strap in leather or a combination of leather and gold chain. Length: 140cm/ 55.1", with 10 holes to adjust it to the perfect length
Attaches to iPhone case with quality metal carabiners
Functionality
No need to remove the phone from the phone case to charge the phone
Camera hole fits iPhone models 6, 6(S), 7, 8 and X
Easy access to on/ off and volume buttons, charging and earphone ports
Storage
Sleek, secure pockets conceal and protect up to 10 cards and a small amount of cash
Cards and cash are secured by a strap and clip
Vaultskin's signature retractable leather strap and metal buckle gives quick access to two frequently used cards
Storage groove for extra SIM card
Protective features
The premium leather holds your iPhone securely while allowing you to keep a firm grip on your device.
Protect the integrity of your phone: phone case covers all four corners of your iPhone while the molded rubber and strong plastic backing help absorb impact from minor falls.
A durable internal shell with smart rubber padding and high-quality plastic backing for rigidity help absorb impact from moderate falls.
A raised lip protects the touchscreen against scratches.
All function phone buttons are covered to protect them and keep them in a good condition.
A secure, high-quality adjustable and detachable leather or leather/ metal combination strap.
Soft, velvety microfibre inside the case prevents scratching the back of your phone in the case.
Product Dimensions:
Weight with leather strap: 2.82 oz/ 80 grams
Weight with leather/ chain strap: 2.53oz/ 100 grams
Strap designed to hold 50g phone case plus iPhone, cards, some cash and a few small items
Warranty: 100% product guarantee