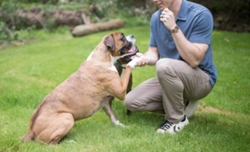 Training a puppy with positive energy and praise leads to increased energy and willingness to learn.
CLEVELAND (PRWEB) July 10, 2018
When thinking about getting a new puppy, it's important to do research about training. There's endless information online around "what to do when training a puppy," but it's also important to know what NOT to do. Below, Embrace Pet Insurance has compiled a list of things pet parents should avoid doing when bringing home a new puppy.
1. Don't Leave a Puppy Unattended
While it may feel like a nuisance, it's worth it to not leave a new puppy unattended during the first few months. If left alone, a puppy will likely have accidents or chew up a new pair of shoes – or something else valuable. Of course, there are times when pet parents will have to step out or go to work – this would be an ideal time to start kennel training or confining the new furry family member to a puppy-friendly room.
2. Don't Misuse the Crate
A kennel or crate is supposed to be a safe place for a puppy. Pet parents should make sure to only put him/her in the kennel during the night, for naps, or when they leave the house. Never put a dog in the kennel for punishment or neglect him/her in it, as it can lead to anger and anxiety issues.
3. Don't Train Inconsistently
Consistency wins every hurdle, especially when it comes to puppy training. Dogs need simple training instructions and they need to obey commands, so consistency is key. Pet parents should put in the same amount of effort to train the puppy each day, so they are able to comprehend the training every step of the way.
4. Don't Encourage Playful Biting
Puppies begin exploring with their mouths and teeth at a very young age. It's common knowledge that puppies like to chew on everything from shoes to furniture – even fingers. Though puppies are cute in all the little things they do, it's never okay to encourage biting.
5. Don't Try Too Much at Once
Patience is key when training a puppy. Pet parents should wait until their puppy fully comprehends a training section before moving on to the next one. It's easy to assume just because a puppy learned a command a few times in a row that he/she is ready to move on to the next part of training, but it's best to wait until the pup is proficient with the specific command. Never rush or the puppy may feel overwhelmed and it could set training processes back. For example, if a puppy is being taught to "sit" and they have done it a few times in a row, automatically moving on to "sit and stay" would typically be too much at once.
6. Don't Reward Too Soon
If a new puppy is doing a good job with a command, pet parents should wait until the pup is completely finished with his/her command before rewarding them so they understand why they are being rewarded. When a puppy is rewarded before they've finished a command, they won't fully grasp the training.
7. Avoid Negative Emotion
Overdoing it with emotion can lead to poor response from a puppy. When pet parents train with irritation, anger, or force, they are intimidating the puppy and the training sessions can turn into inquisitions. Training with positive energy and praise will likely lead to increased energy and willingness to learn in the puppy.
For additional resources and information about puppy training, visit the Embrace Pet Insurance blog here: https://www.embracepetinsurance.com/waterbowl.
About Embrace Pet Insurance
Embrace Pet Insurance is a top-rated pet health insurance provider for dogs and cats in the United States. Embrace offers one simple yet comprehensive accident and illness insurance plan that is underwritten by American Modern Insurance Group, Inc. In addition to insurance, Embrace offers Wellness Rewards, an optional preventative care product that is unique to the industry. Wellness Rewards reimburses for routine veterinary visits, grooming, vaccinations, training, and much more with no itemized limitations. Embrace is a proud member of the North American Pet Health Insurance Association (NAPHIA) and continues to innovate and improve the pet insurance experience for pet parents across the country. For more information about Embrace Pet Insurance, visit http://www.embracepetinsurance.com or call (800) 511-9172