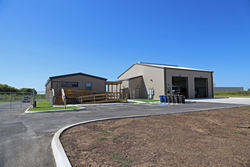 DESOTO, Texas (PRWEB) July 10, 2018
Palomar Modular Buildings has released a case study for the completed construction of a two-module, 1,792 square foot modular building for the City of San Antonio's Fire Station #52. The modular building serves as living quarters and offices for the firefighters stationed at the facility.
The project schedule had a constrained timeline when the contract was finalized. Palomar constructed the modular building in six weeks in the company's DeSoto, Texas manufacturing facility while Allbrite Construction, the general contractor, completed the project's site work.
The modular building floor plan includes bunkrooms, offices, kitchen, dining, and recreation areas. The two-module building features an exterior finish and roof composed of 29-gauge steel paneling, a high efficiency HVAC system, heavy duty high traffic doors, durable and low maintenance floor and wall coverings, and motion light sensors.
The San Antonio Fire Station #52 case study, along with a host of other case studies, is available at the company's website.
About Palomar Modular Buildings
Palomar Modular Buildings manufactures advanced modular buildings for a range of industries including office, retail, healthcare, government, education and workforce housing. The company's state-of-the-art manufacturing facility in DeSoto, Texas, is staffed with a dedicated team of skilled tradesmen and production managers that have produced hundreds of modular projects from simple additions to complex multi-stage facilities.
# # #
If you would like further information about this press release or to schedule an interview with Gary Taylor, please contact Gary Taylor at gtaylor(at)palomarmodular(dot)com or call 1-866-312-4032.