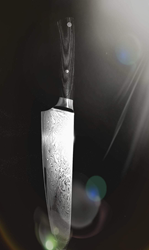 My team and I designed Heirloom Knife to help consumers slice, dice and chop with ease. We want users to make memories in the kitchen with Heirloom and pass on our knife to generations to come
GLENVILLE, N.Y. (PRWEB) July 09, 2018
Utilizing the latest technology, while paying homage to old-world craftsmanship, the husband and wife duo behind Heirloom Knives has created a quality knife available to consumers at a fraction of the price of most knives. Today, Heirloom Knives launched on Kickstarter in the hopes of raising $33,000 through the popular crowdfunding platform.
The process of making an Heirloom Knife is extremely labor intensive. What sets Heirloom apart from other cutlery knives is the company's utilization of a quenching process during which each knife is dipped in liquid nitrogen set below -300 Fahrenheit for over 20 hours. This process ensures the blade will hold its 15-degree cutting edge on the ultrasharp eight-inch blade.
Heirloom Knives use of Japanese 67-layer Damascus steel wrapped around AUS-10 steel ensures that the knife is higher in Carbon and Valadium, meaning the blade will stay sharper for a longer period of time. The knife's handle is made from Pakkawood, a wood engineered out of various wood and plastic composites. Pakkawood gives Heirloom the perfect weighted feel that fits effortlessly in the hands of users.
"We wanted to make a knife that is truly the most versatile item in consumers' kitchens," explained Co-founder and Lead Designer Steve Thorne. "My team and I designed Heirloom Knife to help consumers slice, dice and chop with ease. We want users to make memories in the kitchen with Heirloom and pass on our knife to generations to come."
The husband and wife duo behind Heirloom Knife have vowed to give customers the high-quality kitchen accessory at a fraction of the price of its competitors by cutting out the middleman and offering factory-direct pricing. Heirloom's sleek, steel design gives the knife an elegant and sophisticated look while the eight-inch blade allows users to fearlessly cut through nearly anything. Heirloom Knife is now available to pre-order starting at $X at http://pr.go2.fund/heirloom.
About Heirloom Cutlery
Heirloom Cutlery is dedicated to working tirelessly in order to create the best quality knife and offer it to consumers at factory direct pricing. While utilizing the latest technology and paying homage to old-world craftsmanship, Heirloom's knives are made to last and be passed down from generation to generation. To learn more, visit http://heirloomcutleryco.com/.