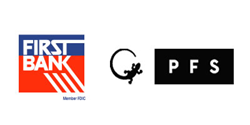 "With Fonolo's pivotal cloud-based call-back technology, the 2018 recipients have gone above and beyond their CX offerings by eliminating hold times and giving precious minutes back to their customers. Join us in applauding their exceptional work this year. We are proud of them."
TORONTO (PRWEB) July 11, 2018
Fonolo, the pioneer in cloud-based call-back solutions for the modern contact center, today announced the 2018 recipients of its Customer Experience (CX) Excellence Awards: First Bank and PFS.
This annual award recognizes contact centers who deliver exceptional customer experiences, made possible by significantly reducing hold times. Fonolo is honored to acknowledge these organizations for their outstanding achievement in improving their CX by utilizing a call-back solution. These companies have optimized their agent efficiency, reduced abandon rates, and created award-winning experiences for their customers.
"The awards season is always an exciting time for us. This year is no different," said Shai Berger, CEO, Fonolo. "With Fonolo's pivotal cloud-based call-back technology, the 2018 recipients have gone above and beyond their CX offerings by eliminating hold times and giving precious minutes back to their customers. Join us in applauding their exceptional work this year. We are proud of them."
About the 2018 Customer Experience Award Winners:

First Bank, a subsidiary of FB Corporation, is a family-owned business that offers the stability and experience with long-term planning that helps businesses and the communities in which they operate grown and thrive. With more than $66 billion in assets and 94 locations, First Bank has developed a relationship-driven approach to offer comprehensive solutions for clients.
PFS (NASDAQ:PFSW) is a Global Commerce Operations Partner with solutions spanning branded fulfillment services, high-touch customer care, intensive fraud management offerings, and scalable WMS and OMS technologies. PFS is a business unit of PFSweb, Inc.
Remarks from the Recipients:
"The client experience is one of our key performance indicators. Waiting on hold certainly creates a negative experience we prefer to avoid, but when it does happen we appreciate the safety net Fonolo provides. We have received positive feedback from our clients about this newly implemented alternative to waiting on hold."

Jeff Yielding, Vice President of Client Contact Center, First Bank
"We take great pride in providing a world-class customer experience through our global contact centers. Fonolo's advanced technology gives us the flexibility needed during high-volume periods to improve service levels and give precious time back to customers. We are honored to receive this award and look forward to continued success with Fonolo in the future."

Zach Thomann, SVP and PFS General Manager
Previous award winners include HKT Teleservices, HomeAdvisor, and Nutrisystem, Inc. To learn more about the Customer Experience Excellence Awards, visit fonolo.com/awards.
About Fonolo
Fonolo is the leading provider of cloud-based call-back solutions. The company's innovative products improve the way call centers interact with their customers by seamlessly replacing hold time with a call-back. Regardless of where the conversation begins – on the web, mobile or by phone – Fonolo quickly and conveniently routes customers through the call center, connecting them to the right agent and eliminating hold time. A growing list of organizations trust Fonolo to improve the call center experience for their customers. Fonolo was named "Top Technology Provider" by the 2015 Call Center Week Awards.
To learn more about how Fonolo can help reduce abandonment rates, improve your customer experiences, and lower costs, visit Fonolo
Media Contacts:
Fonolo
Samantha Mehra, Marketing Communications Manager
647.715.2314
samantha(at)fonolo.com
First Bank
Mike Wilmering, O'Malley Hansen Communications
314.721.8121
http://www.omalleyhansen.com
PFS
Reagan Morgan, Director of Marketing
972.881.2900 x2305
rmorgan(at)pfsweb.com