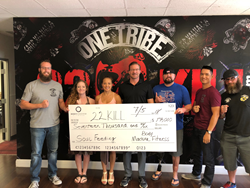 With the tragedy of suicide featured in recent news, awareness and prevention are even more urgent. We are gratified to contribute to such a worthy cause.
DALLAS (PRWEB) July 10, 2018
Body Machine Fitness, a world-class fitness studio, today announces its Plano, Texas studio raised more than $25,500 to benefit 22KILL, a nonprofit that raises awareness of the veteran and first responder suicide epidemic plaguing the country and educates the public on PTSD and other mental health issues.
"We are elated by the response received from our members and the community who dove right in for our challenge," says Margaux Phoenix, President of Body Machine Fitness. "With the tragedy of suicide featured in recent news, awareness and prevention are even more urgent. We are gratified to contribute to such a worthy cause."
The North Texas community was invited to participate in the #BMFx22KILL Challenge from May 22-June 22, 2018 at Body Machine Fitness. The fundraiser offered special classes incorporating the signature 22KILL Push-Ups, as well as custom workouts created especially for adaptive athletes. Body Machine Fitness donated $22 per member participant in each 22KILL Challenge Day class. Additional donations were accepted throughout the entire campaign. A 50% match was donated by Terri Maxwell, CEO of Share On Purpose, Inc. and Promote On Purpose, LLC.
Maxwell was motivated to support the campaign because a close family member suffers from Post-Traumatic Stress related to military service. "22KILL makes a difference for veterans, and I was inspired by the Body Machine Fitness fundraiser," Maxwell says, "I know how important physical exercise is to managing depression and stress."
As a Grand Finale, Body Machine Fitness held a one-hour long push-up challenge where friends and family of the participants donated per push-up completed in that one hour. Donations ranged from .10¢ - $2.00 each. The simple strategy was to aim for only doing 5-10 pushups per minute, and resting the remainder of the minute. 
By the numbers:

Push-up Participants: 15
Total Push-ups: 8,508 (average 567 push-ups per participant)
BMFx22KILL Challenge Donations: $17,000
50% Donation Match: $8,500
GrandTotal: $25,500
"For veterans and others who sacrificed for us, the physical and emotional injury they endure is an all-too-real daily challenge," Jacob Schick, CEO of 22KILL. "The 'Workout with a Warrior' campaign sponsored by Body Machine Fitness is a much-appreciated show of support and gratitude from the community."
To learn more, please visit http://www.bodymachinefitness.com/22KILL.
About Body Machine Fitness:
Founded in 2017, Body Machine Fitness is an instructor-led, immersive workout experience driven by a club-like audio and lighting atmosphere. The one-hour full-body strength and conditioning workouts are designed to serve all fitness levels from beginner to elite, while providing world-class equipment, spa-like amenities and smoothie bar offerings. The entire workout experience, including the synchronized electrifying audio, soundtracks and light show, are customized daily to keep members engaged, energized and deliver maximum results, while ensuring the safety and well-being of its members. Founders Margaux Phoenix, Jeremy Soder, and Pete Stickney are physical fitness experts and enthusiastic supporters of the community in Plano Texas and beyond. Learn more at: http://www.bodymachinefitness.com.
About 22Kill:
22KILL, a 501(c)3 nonprofit organization, started in 2013 with a mission to raise awareness to the suicide rate among veterans and first responders, educate the public on PTS and other mental health issues, and focus on suicide prevention through empowerment.  22KILL offers a variety of programs and resources for all service members. These programs provide many forms of traditional and non-traditional therapies for both mental and physical health, serving veterans, first responders, and their families. Learn more at http://www.22kill.com.