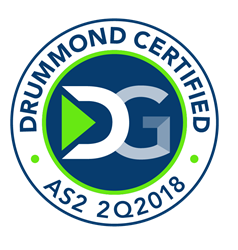 ...some of the largest supply chains require trading partners to use Drummond Group certified AS2 products...
AUSTIN, Texas (PRWEB) July 10, 2018
Drummond Group LLC, the trusted leader in interoperability software testing, announces the completion of its AS2-2Q18 automated interoperability test event in which a total of twelve products from the following software vendors are now Drummond Certified™: Axway, Cleo, Dell Boomi, DXC.technology, IBM, JSCAPE, HelpSystems, OpenText GXS and RSSBus.
Why is Drummond Group AS2 Certification important?
The Applicability Standard 2 (AS2) continues to be one of the most widely adopted messaging standards in the world. AS2 has been adopted by many industries including: retailers, consumer products goods, hard-lines, insurance, financial services, petroleum, pharmaceutical, government industries and others. Drummond Certified AS2 products allow for critical business documents (including EDI, XML, PDF, etc.) to be exchanged securely and reliability. AS2 Interoperability testing utilizes Drummond Group's full matrix interoperability testing to ensure full coverage testing between the certified products.
"There is a reason that these companies come back every year for regular testing," said Aaron Gomez, Director of AS2 Testing and Certification. "These software vendors recognize the importance of interoperability testing and the high level of quality assurance provided by participation in AS2 interoperability testing. The Drummond Certification program has been in existence since 2000, offering interoperable secure message exchange testing and certification twice per year. The fact that some of the largest supply chains require trading partners to use Drummond Group certified AS2 products is a testament to the value they place on Drummond Group's AS2 testing program."
For a complete list of the newly certified AS2-2Q2018 products and registration information for upcoming tests, please visit:
AS2 Current Drummond Certified™ Product Listing
Register for AS2 Testing
About Drummond Group LLC
Drummond Group is a global software test and certification lab that serves a wide range of vertical industries – ONC Health IT Electronic Health Records (EHR), HITRUST Certified Assessor, Controlled Substance Ordering Systems (CSOS), Electronic Prescription of Controlled Substances (EPCS) software, penetration testing, PCI, Secure Messaging (AS2, AS3, AS4, ebXML) – a trusted test lab moving towards the digital future.
Visit http://www.drummondgroup.com to learn more.