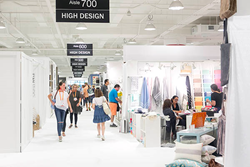 ATLANTA (PRWEB) July 10, 2018
AmericasMart® advances its position as the epicenter of trend evolution and thought leadership when retailers, designers, specifiers and manufacturers from across the U.S. and around the world gather at The Atlanta International Gift and Home Furnishings Market® and The Atlanta International Area Rug Market® July 10–16, 2018. The Market's 61st-annual summer staging promises new introductions, new product collections and presentations and industry-leading programming featuring celebrated tastemakers, business visionaries and innovators across its newly timed seven-day run.
Leading the July Market lineup is expanded AmericasMart® LIVE programming delivering new experiences and an all-new coterie of globally celebrated talent including lifestyle legend Martha Stewart, business mogul Bethenny Frankel, and multihyphenate Trisha Yearwood and many more.
For July 2018, AmericasMart LIVE becomes the new venue for ICON HONORS 2018, the Market's acclaimed centerpiece and the most important and anticipated evening in the gift and home industry. International tastemaker Arianna Huffington takes the ICON HONORS stage in an exclusive keynote presentation to mark the professional achievements of those who will win the coveted ICON HONORS recognition on Thursday, July 12 (full details at http://www.ICONHONORS.com.)
The July 2018 Market momentum continues with these highlights:

New curated shopping experience "Shop the Show." Retailers, designers and home décor lovers will experience a fresh twist on Market, through the eyes of leading lifestyle influencers. Pop-ups of favorite products, original content, fun videos and loads of special events will be shared on social media with the hashtag #ShoptheShowATL.
The debut of The Museum Collective, an all-new curated merchandise collection produced under a new strategic Museum Store Association/AmericasMart partnership. Custom-designed to serve the refined merchandising requirements of museum stores, zoos, aquariums, catalogs, online sellers and other specialty retail enterprises, The Museum Collective will present a curated selection of quality gifts, décor, collectibles and private label products.
New buying experiences in the temporary collections, which run on a new Wednesday to Sunday schedule. A consolidated home décor temporary collection in Building 1 has DÉCOR | Light & Lifestyles joining the Home Accents & Home Furnishings and Fine Linens and Home Textiles collections on Building 1, Floor 7 while a reimagined Emerging Artists Collection and a new Body and Soul LUXE collection highlight Building 3.
The Atlanta International Gift and Home Furnishings Market® runs Tuesday, July 10 – Monday, July 16, 2018 (Temporaries Wednesday, July 11 – Sunday, July 15). The Atlanta International Area Rug Market® is Wednesday, July 11 – Sunday, July 15, 2018. For more information, visit http://www.AmericasMart.com/July.
ABOUT AMERICASMART
AmericasMart is the nation's only global wholesale marketplace housing the world's single-largest collection of home, gift, area rug and apparel merchandise. The largest of AmericasMart's 16 annual Markets and shows, The Atlanta International Gift & Home Furnishings Market and The Atlanta International Area Rug Market in January and July are the ignition switch for global retailing with buyers from every U.S. state and as many as 70 countries discovering product in more than 1,500 showrooms and more than 3,500 temporary exhibiting companies. ICON HONORS, the home and gift industry's most celebrated recognition program, is produced and staged annually by AmericasMart.
Located in downtown Atlanta, the AmericasMart complex contains more than seven million square feet of space. It's a huge global stage on which manufacturers, designers and sales representatives unveil new lines, launch new designs and introduce new categories – all for the benefit of buyers seeking all that is fresh and first in the home, rug, gift and apparel arenas. For more information, please visit http://www.AmericasMart.com. Follow us @AmericasMartATL or @atlantaapparel.