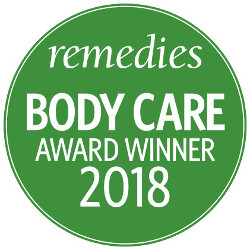 Badger has been making safe and effective broad spectrum mineral sunscreens since 2005 and offers an extensive line of family and reef-friendly sun protection for moms, dads, babies, and kids
GILSUM, N.H. (PRWEB) July 09, 2018
W.S. Badger Co. Inc., a family owned and family friendly maker of all natural and certified organic body care, today announced its new broad-spectrum SPF 30 clear zinc mineral sunscreen cream is a Remedies 2018 Body Care Award Winner in the sun protection category.
Remedies is a monthly, supplement-focused publication by Taste For Life, and its annual Body Care Award winners, which are carefully tested and selected by staff and colleagues, recognize natural body care products for excellence and effectiveness.
Badger has been making safe and effective broad spectrum mineral sunscreens since 2005 and offers an extensive line of family and reef-friendly sun protection for moms, dads, babies, and kids; all of which score high on the EWG's list of sunscreens. The company's new SPF 30 Clear Zinc Sunscreen Cream is soothing, lightweight and moisturizing with no added fragrance and water resistant for at least 40 minutes. It also has the additional benefit of rubbing in clear, so it's less whitening than regular zinc oxide.
Badger's new and existing sunscreen creams and lotions are available for sale online, in stores, and at major retailers such as Whole Foods, Sprouts, REI and Earth Fare as well as independent food co-ops and pharmacies. The company's new clear zinc oxide sunscreen creams (Active SPF 30 and Sport SPF 35) come in 2.9-ounce tubes and have a suggested retail price of $16.99.
Badger is a family run and family-friendly company that has been making healthy products for people and the planet since 1995. Badger was born when Badger Bill, a carpenter at the time, created a recipe of natural ingredients strong enough to soothe his rough, dry, cracked hands. Today, the company produces sunscreens and nearly 100 hundred personal care products at its headquarters in Gilsum, N.H. Inherent in Badger's DNA is its status as a B Corp, a certification earned through B Lab, a third party non-profit that requires companies to meet rigorous standards of transparency as well as environmental and social performance. Badger has been a certified B Corp since 2011 and in 2015 became one of New Hampshire's first businesses to register legally as a Benefit Corporation, a for-profit status that incorporates the pursuit of positive environmental and social impact in addition to profit. For more information, visit Badger at http://www.badgerbalm.com and follow on Facebook, Twitter, and Instagram.