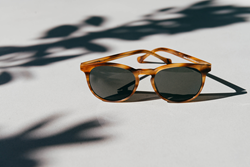 NEW YORK (PRWEB) July 11, 2018
Felix Gray, the modern designer of eyewear engineered for happier eyes via blue light filtering technology and glare elimination, is today announcing its debut sunwear collection featuring proprietary blue light filtering technology and special polarized lens for a better visual experience.
Starting at $95, the collection includes seven different frames in a variety of finishes and colors including Whiskey Tortoise, Artichoke, Sazerac and classic Black, perfect for any consumer looking for fashionable and functional eyewear this summer season. The high-quality acetate frame paired with Felix Gray's proprietary lens technology, provides premium protection while enhancing color to enhance your experience.
Contrary to standard blue light filtering eyewear, Felix Gray embeds its technology within the lens rather than a coating or yellow tint. By filtering blue light and enhancing color, these polarized lenses increase optical clarity for a vibrant, visual experience.
"We're ecstatic to expand our product offering and bring our blue light filtering, anti-glare technology combined with with fashion-forward frames to sunwear," says David Roger co-founder & CEO. "Our mission is to create thoughtful eyewear engineered for a digital world and the debut of sunwear does just that, offering world-class sunglasses at an affordable price."
Felix Gray Sunwear Features:

Color Enhancement: Blue light scatters more than any other color (fun fact: it's why the sky is blue!), which can create distortion. By filtering Blue Light and blocking UVA/UVB/UVC, Felix Gray's 'true color' lenses allow all colors to appear crisper and more vivid.
Polarization: Unlike traditional polarization, Felix Gray's ultra-thin and anti-glare polarized lenses are designed with digital screens in mind to enhance visibility.
Backside Anti-Reflection: Different than most lenses, Felix Gray's backside AR (which eliminate glare) means you're protected from all directions. Their super hydrophobic backside anti-reflective coating that helps reduce indirect, bounce-back light from reflecting into your eyes.
To launch the collection, Felix Gray partnered with seven Los Angeles entrepreneurs to discern how they find happiness and productivity in their daily lives, and how proper eyewear can improve both. Initial Felix Gray sunwear ambassadors include Dawn Dunning, Owner or Bazaar Noir, and Andre Mataele, Founder of Seedless Water.
The new sunwear collection is available starting today for $95. The full line of designs can be browsed at http://www.shopfelixgray.com.
To view the media kit, click here: https://drive.google.com/drive/folders/1n93MOzcY3s0ejZe0HW6FHaBtu3u7-G2H?usp=sharing
For more information about Felix Gray's latest prescription lenses, or to request a pair for review, contact: Kirstin Hallett at kirstin@sourcecodecomms.com.