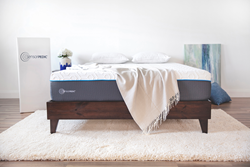 "Photographing in our new studio has allowed us to capture every aspect of our products to better showcase their superior quality..." Katherine Burger, Soft-Tex Graphic Design Manager
WATERFORD, N.Y. (PRWEB) July 10, 2018
Soft-Tex International recently unveiled a new custom built photography studio at its Waterford, NY headquarters to provide enhanced environment and product photography for the company's ecommerce and in-store assortment of utility bedding and mattress products.
"Photographing in our new studio has allowed us to capture every aspect of our products to better showcase their superior quality and more easily navigate the unique and custom setups that are exclusive to Soft-Tex," said Katherine Burger, Soft-Tex Graphic Design Manager. Burger continued that the addition of the new studio space "has allowed us to expand on our creativity and offer enhanced differentiation in the hyper-competitive marketplace for bedding"
The new studio also enables Soft-Tex to better serve its retail partners with faster turnaround times for photography requests and heightened image quality through leveraging top-of-the-line cameras, lighting, and editing tools as well as a more streamlined, 100% in-house process.
About Soft-Tex:
As one of America's premier sleep product manufacturers, Soft-Tex International's mission is to help consumers sleep comfortably and live better through innovative design. As the marketplace for sleep and home comfort products evolves, Soft-Tex meets the needs of omnichannel retailers by not only manufacturing products with leading-edge technologies, but also providing best-in-class physical and digital merchandising solutions.