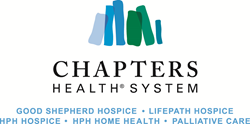 "Every day our team members impact lives — Chapters Health is a great place to do great work."" --- Andrew Molosky, president and chief executive officer for Chapters Health System
TAMPA, Fla. (PRWEB) July 10, 2018
Chapters Health System was certified as a great workplace in the Aging Services category today by the independent analysts at the Great Place to Work® Institute. Chapters Health and its affiliates (Good Shepherd Hospice, HPH Hospice, LifePath Hospice, Chapters Health Palliative Care and HPH Home Health) earned this distinction based on extensive ratings provided by its team members in anonymous surveys. A summary of these ratings can be found at: LINK to report
"We are proud of this certification because it recognizes the accomplishments of our team members and what truly differentiates us from others in the healthcare arena," said Andrew Molosky, president and chief executive officer for Chapters Health. "People come to Chapters Health to be part of an organization performing meaningful and impactful work 24/7/365 in taking care of patients and families with or affected by advanced illnesses. Every day our team members impact lives — Chapters Health is a great place to do great work."
Chapters Health employees completed more than 700 surveys resulting in a 90-percent confidence level and a margin of error of ± 1.98. According to the study, 79 percent of Chapters Health employees say they take pride in working for the organization.
"We applaud Chapters Health for seeking certification and releasing its employees' feedback," said Dr. Jacquelyn Kung of Great Place to Work's senior care affiliate Activated Insights. "These ratings measure the organization's capacity to earn its own employees' trust. The designation creates a great workplace for anyone considering working for or doing business with Chapters Health to take into account as an indicator of high performance."
About Chapters Health System
Founded in 1983 as a compassionate not-for-profit organization, Chapters Health System provides choices, education and guidance for those affected by advancing age or advancing illness through its managed affiliates: Good Shepherd Hospice, HPH Hospice, LifePath Hospice, and Chapters Health Palliative Care, located in Citrus, Hardee, Hernando, Highlands, Hillsborough, Pasco and Polk counties. In addition, Chapters Health operates HPH Home Health, which serves the needs of patients in Pasco and Pinellas counties. To learn more, visit http://www.chaptershealth.org, like us on Facebook or follow us on Twitter and LinkedIn.
About Great Place to Work
Great Place to Work is the global authority on high-trust, high-performance workplace cultures. Through its certification programs, Great Place to Work recognized outstanding workplace cultures and produces Fortune "100 Best Companies to Work For®" and Great Place to Work Best Workplaces lists for Millennials, Women, Diversity, Small and Medium Companies, industries and, internationally, countries and regions. Through its culture consulting services, Great Place to Work helps clients create great workplaces that outpace peers on key business metrics like revenue growth, profitability, retention and stock performance. Learn more at Greatplacetowork.com [Greatplacetowork.com __title__ Greatplacetowork.com] and on LinkedIn, Twitter, Facebook and Instagram.