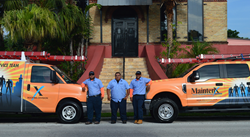 Our Roofing Division managing partners have more than 80 combined years of commercial roofing experience.
TAMPA, Fla. (PRWEB) July 13, 2018
MaintenX International is expanding our roofing services for Florida businesses. To support our growth and expertise in the roofing sector, MaintenX joined two roofing trade associations committed to quality work and continued education in the industry. The MaintenX Roofing Division is now a proud, active member of the National Roofing Contractors Association (NRCA) and the Florida Roofing and Sheet Metal Contractors Association (FRSA).
"Our Roofing Division managing partners have more than 80 combined years of commercial roofing experience," said Bill Schaphorst, MaintenX's VP of Business Development. "We are excited to provide extensive, expert roofing solutions for our customers across Florida and engage our roofing industry peers through NRCA and FRSA."
As members of FRSA and NRCA, MaintenX takes part in training and safety initiatives. Membership is also used to attend seminars and courses through the year aimed at industry trends and safety. In the future, MaintenX looks to become involved in association leadership, helping to share their industry expertise.
While MaintenX has provided exceptional preventative and reactive maintenance services for more than 35 years, they are now proud to offer a wide variety of dedicated roofing services to facilities across Florida. Whether a facility has a major need like new roof construction or a complete replacement, or has more minimal requirements like storm preparedness, a roof overlay or vertical waterproofing, the trusted technicians at MaintenX are ready to help.
As one of the nation's largest providers of preventative and reactive maintenance, MaintenX is committed to providing the best service to facilities from coast to coast. For more information about the MaintenX Roofing Division, visit http://MaintenX.com/roofing.
ABOUT MAINTENX INTERNATIONAL:
MaintenX International is a fully-licensed, facilities repair company. They are one of the largest national self-performing facility maintenance and repair companies in the U.S. MaintenX has created a network of knowledgeable and professional technicians throughout the country. With their team of well-trained technicians, MaintenX self-performs and manages facility maintenance for clients. In the event there is not a MaintenX technician in the area, the company has fostered a network of preferred vendor partners throughout the country to provide superior service for their clients. For more than 35 years, MaintenX has been expertly serving multi-location retail stores, restaurant chains, and Fortune 500 companies nationwide. Learn more at http://www.MaintenX.com.