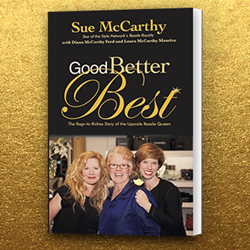 "After our TV show [Resale Royalty, produced by Rachel Zoe] ended, people wanted additional sneak peeks into the glamorous closets my daughters and I enter—it's truly lady porn," said McCarthy. "It's like parting the curtain into a world about which they can only dream."
ST. LOUIS (PRWEB) July 10, 2018
Sue McCarthy, star of the Style Network's Resale Royalty and owner of The Vault Luxury Resale, one of the country's finest upscale resale boutiques, has released her autobiography, Good, Better, Best. The incredible rags-to-riches story follows McCarthy's life from her humble beginnings as a hungry, homeless child, to achieving acclaim as the nation's upscale resale queen.
A closet canvasser of celebrities and the founder of a multimillion-dollar resale empire known around the world for its abundance of Louis Vuitton, Chanel, Gucci, Prada, and more, McCarthy takes readers behind the scenes—and into the closets—of the world's wealthiest and most stylish women.
"After our TV show [Resale Royalty, produced by Rachel Zoe] ended, people wanted additional sneak peeks into the glamorous closets my daughters and I enter—it's truly lady porn," said McCarthy. "It's like parting the curtain into a world about which they can only dream."
With her daughters, Laura and Diana, by her side every step of the way, McCarthy delights in the life she has designed for her family. While McCarthy is the business's leader, Laura has gained acclaim as the family business's chief curator and label savant—from the Upper East Side to Paris. Diana has also made her mark around the world planning inspired events, fashion shows, resale bus tours, VIP shopping, in-home trunk shows, and more, including book signings for fashion heavyweights like Fern Mallis, the founder of New York Fashion Week.
McCarthy's story didn't begin with such glitz, however, as she relays through hilarious, irreverent tales of living in a New Orleans park as a child and styling hair for the deceased as a young beautician. A born innovator and self-starter, she worked hard to build an impeccable reputation and a resale empire—and as a result, has rubbed elbows with Rachel Zoe, Oprah, Heidi Klum, and more.
"My book is a really a story of an entrepreneurial woman who turned every obstacle into an opportunity, always strived to do the right thing, and beat all the odds," said McCarthy. "I hope to inspire other entrepreneurs and show them what's possible when you maintain a sense of humor and positive attitude."
Good, Better, Best is currently available for purchase at http://www.thegoodbetterbestbook.com and on Amazon. The official launch party will take place August 2 at McCarthy's St. Louis boutique, The Vault Luxury Resale, located at 2325 South Brentwood Blvd.
About the Author
Sue McCarthy is the founder and CEO of The Vault Luxury Resale, the star of the Style Network's reality series Resale Royalty, and author of the autobiography, Good, Better, Best. Known for pioneering the upscale resale business model as we know it today, McCarthy is a frequent guest speaker at the annual conference of NARTS (National Association of Resale Professionals) and has served as both vice president and board member. An outspoken advocate for self-starters and women-owned businesses, McCarthy has been and continues to be a role model for others—including her own daughters, who have chosen to follow in her footsteps. She is the recipient of the Outstanding Service Award and has been recognized by the Small Business Association (SBA) as an expert in the field of resale.